Panasonic unveiled its first cell phone to carry its Lumix digital-camera brand name on Tuesday.
The phone has a 13.2 megapixel image sensor behind a 27mm wide-angle lens. There is no optical zoom.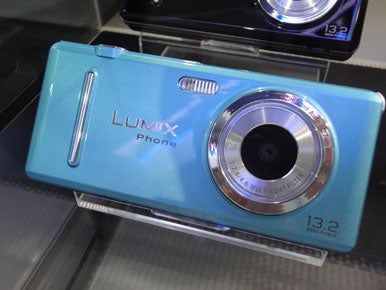 It was revealed at the Ceatec electronics show near Tokyo, but Panasonic didn't release any detailed information about the phone. It's built for NTT DoCoMo in Japan and is unlikely to be sold overseas.
A large silver ring like those found on digital cameras appears to guard a lens a couple of centimeters in diameter, but a closer look reveals what appears to be a conventional cell phone lens in its center.
It's controlled from a 3.3-inch touchscreen display.
Panasonic says it should be capable of producing pictures that are better than its current cell phone models. The phone features a mobile version of Panasonic's VenusEngine image processing chip that is said to improve color reproduction. A lens coating will help reduce glare and a stronger-than-usual flash has been added.
The company had previously said it will offer picture sharing over Wi-Fi and DLNA (Digital Living Network Alliance) networks. The phone will measure 11.6 centimeters by 5.2cm by 1.8cm.
Full specifications of the phone are expected later this month when NTT DoCoMo announces a new line-up of cell phones.
Panasonic is one of Japan's largest cell-phone makers, but it doesn't sell its advanced models overseas. Barring a change in its strategy, the Lumix Phone is unlikely to be seen in markets outside of Japan.