Looking up song lyrics might be one of the oldest online pastimes, but not all lyrics-searching Websites are created equal. Searching for lyrics on an iOS device can be a tedious process, as many lyrics sites will not have the song you're looking for, or will even provide faulty lyrics.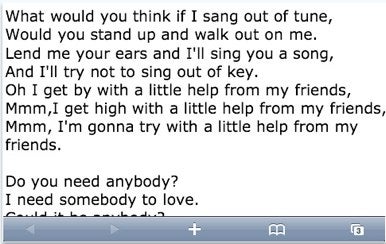 Tal Shrestha's new universal app, Instant Lyrics, makes life easier for the mobile lyric-seeker. When launched, the app automatically scans the ID3 tag of whatever song you're currently playing and runs a search for its lyrics through multiple lyrics databases. When it finds the right lyrics, the app displays them in Safari—then you're free to sing along to your song without having to awkwardly mumble through the parts you don't know.
Instant Lyrics supports lyrics searches in multiple languages, and if no track is playing when you open the app, you can select a track from your library to perform a lyrics search on.
Instant Lyrics costs $2 and runs on iOS 3.2.1 or later.