You probably can't dock your iPad in your existing iPod speaker systems—not without a comical chain of adapters or accidentally tipping the entire thing over, anyway—so iLuv has designed a speaker system specifically for Apple's tablet.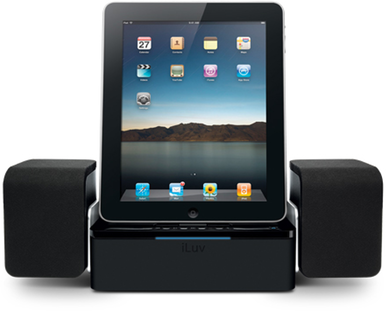 The iLuv iMM747 is a desktop speaker system that uses the company's jAura soundcell speakers, featuring a tweeter, main driver, and built-in radiator subwoofer. A flexible dock-connector supports an iPad—or an iPhone or iPod—while in the dock, ensuring a secure fit and protecting both the device and connector. There's also an auxiliary line-in for other devices, and a USB cable that allows you to sync your Apple device while it's docked. In addition, the iMM747 will fill up your device's battery using its ultra-fast charging capabilities.
Available in early October, the iMM747 will cost $150 and work with all iPads, iPhones, iPod touches, iPod nanos, the iPod classic, and the iPod with video.