It was only a month ago that Second Gear released MarkdownMail, its iPhone app that lets you use John Gruber's Markdown language to easily pen rich HTML e-mails. Now the company is back with MarkdownMail 2, a major update that adds some of the most user-requested features.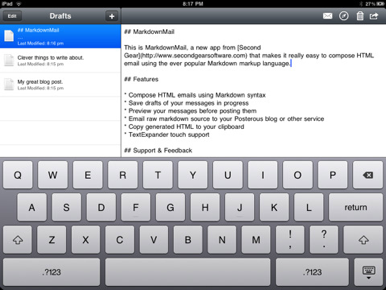 New in MarkdownMail 2 is an iPad interface, making the app a universal citizen for Apple's mobile iOS devices. It also gains support for saving and editing drafts so you can revisit and revise your messages before sending them out to the world.
MarkdownMail 2 also adds support for posting to Tumblr and Posterous, two blogging services that allow you to e-mail Markdown-formatted messages. The original MarkdownMail would convert messages to HTML before sending; in version 2, you can optionally send messages in Markdown itself, leaving Tumblr and Posterous to convert them into HTML-formatted blog posts.
MarkdownMail 2 is available now for $4 in the App Store, and it's a free update to existing owners. It requires an iPad running iOS 3.2 or an iPhone or iPod touch running iOS 4.