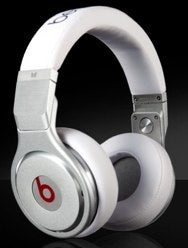 Just in time for the holiday season, Monster has released five new products under its popular Beats by Dr. Dre audio line. These new products continue the line's tradition of blending high quality—and high priced—audio performance with edgy, eye-catching designs.
Beats by Dr. Dre's new flagship product is the Beats Pro headphone (pictured). Billed as a studio-quality reference headphone for audio professionals, the $450 headphone features ambient noise-isolation capabilities; a durable, lightweight aluminum build; and ear cups that flip up for DJ use.
Beatbox is Beats by Dr. Dre's first foray into iPod docking stations. The $400 digital sound system features dual 5.25-inch bass drivers and concave 2-inch high frequency drivers that should get the party going. It's engineered to handle all styles of music and features a sleek, all black design.
Powerbeats is a $170 sports performance headphone set inspired by NBA star player LeBron James of the Miami Heat. The stylish headphones feature a dual-driver design and an adjustable ear hook with a flexible arm that runs around the outside of the ear to keep the headphones securely in place during vigorous activities. Designed for the active user, Powerbeats uses a ported headphone that lets in external noise, so listeners can enjoy their music while still being aware of the sounds around them, and includes a mic and controls for an iPhone or iPod.
iBeats is an in-ear headphone with a consumer-friendly price point of $120. The iBeats headphones are optimized for use with the iPad, iPod, and iPhone and feature a sealed in-ear design that reduces external noise for better sound isolation. The iBeats boasts a solid metal design and includes a mic and controls for the iPhone and iPod on its cable.
JustBeats—which is not yet listed on the Beats by Dr. Dre site—is a collaboration with young pop star Justin Bieber, and is aimed toward young music fans. Available in both in-ear and on-ear models, the $200 JustBeats offer a stylish, Bieber-influenced design, while offering rich sound quality that should open the young listener up to a new world of high-fidelity sound.