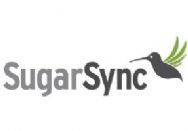 Online storage, backup, and sharing service SugarSync has enabled multi-user sync, a much-requested feature that allows super fast collaboration between co-workers, family, and friends.
Competing in an increasingly crowded space with the likes of Dropbox, Google, Apple's MobileMe iDisk, and plenty of others, SugarSync has long allowed its users to share folders and files online via a browser. But with today's version 1.9.7 update to Mac and PC clients, those folders can be instantly synchronized between all shared users when one user makes a change to a file.
New users will get access to the feature immediately, though SugarSync is rolling out the update slowly to existing users over the next couple of weeks. If you want it immediately, you can manually download the new version from SugarSync's site. SugarSync also has a companion iPhone app, though it's not clear whether or not the instant sync feature applies to that as well.
This update puts SugarSync in a much better position to compete with Dropbox, which has offered the same multi-user file syncing for some time, but way ahead of Apple's iDisk which has generally languished since Apple rebranded .Mac as MobileMe in 2008. Unfortunately, though, SugarSync still does not support the package or bundle file formats used by a number of Mac OS X apps, including iWork, RapidWeaver, and MacJournal. In fact, SugarSync's help documentation warns users that package files could get corrupted if synced.
SugarSync offers a free 30-day trial of its service to both Mac and PC users. Individual plans start at 30GB of space for $5 per month or $50 per year, while business plans start at 100GB for three users at $30 per month or $300 per year.