You've snapped that perfect family shot, but it just needs an ever so slight tweak here or there—and maybe a little more pizzaz while you're at it. Rogue Sheep, makers of the phenomenal iPhone app Postage, have just the solution for you in the form of a new iPad photo-editing app called TouchUp.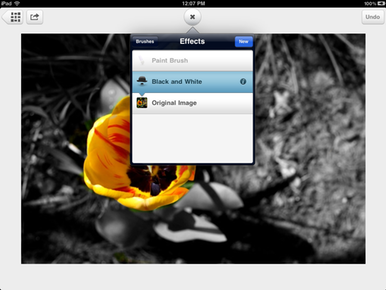 TouchUp allows you to tweak photo settings like saturation, tint, and contrast by painting them directly onto images using your finger. You can also apply effects such as sepia, black and white, and blurring in the same manner, or even paint directly on an image. TouchUp offers four different brushes, and lets you layer effects one atop the other to produce really eye-catching images.
You can import photos from your iPad's photo collection or from Flickr's public photo stream. (There doesn't seem to be a way to get access to your own Flickr photos at present.) When you're done with your masterwork, you can send it back to your Photo Library, or share it via e-mail, Twitter, Facebook, or a shared folder accessible via iTunes on your Mac or PC.
If photo-editing isn't really your bag, don't worry: TouchUp includes a handy set of tutorial videos right inside the app, which will get you started creating your first effect and more. If you're not satisfied with the included effects, which also include brightness, temperature, hue shift, you can also snag the $2 Dodge and Burn pack as an in-app purchase, adding six new effects to the mix.
TouchUp for iPad is currently available for $3, an introductory offer that's 40 percent off its regular price, and runs on any iPad with iOS 3.2 or later.