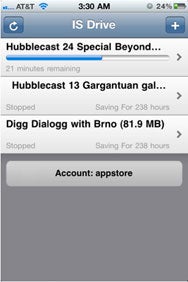 Apple has given the boot to an iPhone application capable of managing BitTorrent downloads, the app's developer said Tuesday. Macworld has confirmed the program is no longer available from the App Store.
"Just got a call from Apple. They're taking IS Drive down," developer Derek Kepner posted on Twitter early Tuesday afternoon. "I'm seeing what I can do. I have a feeling I won't be able to change their mind."
The $5 application allowed users to check and manage downloads from ImageShack, which offers image hosting and free photo- and video-sharing, along with a paid ImageShack Drive feature that allows users to download torrent files to their ImageShack account. Kepner apparently managed to initially avoid Apple's scrutiny by avoiding use of the term "BitTorrent." That changed with Monday's coverage of IS Drive's release in the App Store.
Kepner told Macworld that an Apple representative on Tuesday cited Section 22.4 of the App Store Review Guidelines: "Apps that enable illegal file sharing will be rejected." Kepner said he was appealing the decision. Although in an earlier interview he conceded IS Drive could be used for illegal purposes, saying that an update would likely include a search feature allowing users to add their own torrent sites, on Tuesday he noted there are legal and legitimate uses for BitTorrent file sharing. Apple, he said, "doesn't fully understand what this app is."
"There are users who have no intention to pirate anything. When designing this app, it was very important to me to not bother those users with the option to pirate," Kepner said.
He added that Safari and other third-party apps are also capable of letting users illegally download music and other files. "If they take my app down, they should take those apps down too," he said.
And Kepner noted that ImageShack's torrent service requires a subscription fee. "Users who are interested in piracy aren't going to pay those subscription fees," he said. "There are many legitimate uses for ImageShack Drive. I don't think it's fair to punish legitimate users for the actions of morons who think my app will help them pirate."
Apple did not respond to Macworld's request for comment, but this isn't the first time the company has nixed a BitTorrent-related app. In May of 2009, it rejected an app called Drivetrain, which would have allowed users running the popular Transmission software on their Mac or PC to manage downloads via the iPhone.