The rift between Apple and Google seems to once again be shrinking, or at least changing shape. Google has updated its iPhone search app with Google Goggles, a feature it debuted for Android phones nearly a year ago.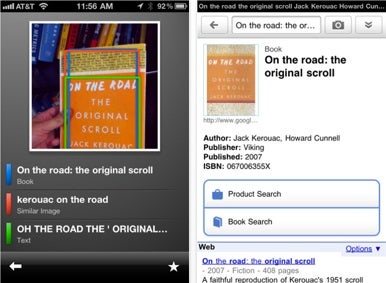 Google Goggles is an intriguing feature (though some also call it "terrifying") that basically allows you to search the world around you using your device's camera. Want to know more about a building, painting, or book that you're looking at? Snap a shot of it with your iPhone and Google will dig up info from sources like Wikipedia, Google Book Search, Google Maps, and other Web resources. We've embedded Google's demo video below to help you get a better idea of Google Goggles in action.
Instead of releasing Google Goggles as a separate app, Google added it to Google Mobile App, its Swiss-Army-knife-like app for searching the Web and accessing other Google services.
Google Goggles took quite a while to arrive on iOS, but the fact that it arrived at all could bode well for the two companies' relationship. Things haven't been entirely rosy between Google and Apple in the mobile space: Apple yanked Google Voice apps from the App Store last year and to date continues to hold Google's official Voice app for "study." However, Apple recently loosened some of its restrictive App Store policies, and is once again allowing allowing third-party Google Voice apps in the store, with Google's own app rumored to be in the offing.
Google Mobile App version 0.7.0.4836 (yes, that's the official update number) is available now in the App Store for free. It's a universal app that requires an iPhone, iPod touch, or iPad running iOS 3.0 or later.
Updated at 2:31pm PT with Google's demo video
Updated at 2:49pm PT to remove iPod touch as a supported device