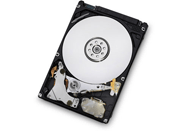 Hitachi's Global Storage Technologies division announced its new 375GB per platter, 5400-rpm and 7200-rpm, 2.5-inch hard drives: the Travelstar 5K750 and Travelstar 7K750.
Hitachi stated in its announcement that the drives offer the industry's highest capacities in a standard 9.5 mm two-disk design.
The Travelstar 5K750 and 7K750 drive families are the first Hitachi hard drives that feature Advanced Format, which increases the physical sector size on hard drives from 512 bytes to 4096 bytes, or 4KB—eight times larger. Hitachi's previous generation drive was the Travelstar 7K500, which had maximum areal density of 370 Gbits per square inch. The new platters have an areal density of 472 Gbit per square inch.
Hitachi's 5400-rpm Travelstar 5K750 drives come with an 8MB buffer for caching and a Serial ATA (SATA) 3Gbit per second interface for fast data transfer rates. The drive consumes 0.5 watts while idle and 1.4 watts power during read/write operations, which Hitachi said contributes to longer battery life in notebooks and other unplugged applications.
Hitachi's 7200-rpm Travelstar 7K750 drive has a 16MB buffer, which allows quicker access to data and faster system performance, especially for multi-tasking and other high-performance office and home applications. It uses 0.5 watts idle and 1.8 watts during read/write operations.
The Travelstar 7K750 is a self-encrypting drive using Hitachi's Bulk Data Encryption (BDE) specification, which encrypts data using protected keys in real time. It also speeds and simplifies the drive re-deployment process. By deleting the encryption key, the data on the drive is rendered unreadable, thereby eliminating the need for time-consuming data-overwrite. When it comes to Mac compatiblity, however, a Hitachi FAQ says, "Bulk Data Encryption (BDE) is independent of OS so that a BDE hard drive can be used on an Apple Macintosh system. However, because Apple systems do not support the ATA security feature set, a BDE drive will function only as a standard drive in an Apple system."
Both of the new Travelstar hard drive families come in capacities of 500GB, 640GB and 750GB.
Travelstar 5K750 Retail Hard Drive Kits will be available next month with a suggested retail price of $130. The drive will be shipping to system manufacturers for qualification by the end of the year. The 7200-rpm Travelstar 7K750 family will be available in Q1 2011. Pricing for that drive was not made available by Hitachi.