Amazon has updated its Kindle app for iOS yet again. The free, universal e-reading app now offers a two-column view when you're using it in landscape mode on an iPad, making the horizontal reading experience much more like Apple's iBooks app.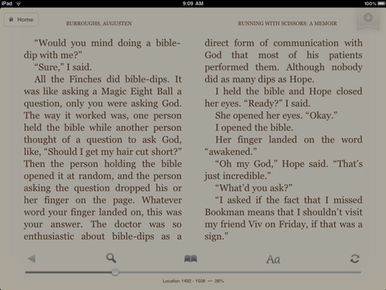 Also included in the Kindle 2.3 update is support for what Amazon calls Book Extras. These extras can include detailed character lists, important places in the book, super-short synopses, summaries, and more. Readers can choose whether to toggle on the Show Spoilers option when reviewing this data. (Note that the Kindle app erroneously suggests that you turn Hide Spoilers off, when in fact you need to turn Show Spoilers on, to see certain elements.) All the Book Extras are provided by Shelfari, an editable book encyclopedia.
Amazon also says that the updated app is more stable than before, though frankly I'd never noticed crashes in earlier versions anyway.
Kindle for iPhone, iPod touch, and iPad is free, and requires iOS 3.0 or later.