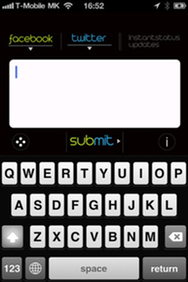 A Macedonian company has launched a new paid app that lets users update their Twitter and Facebook statuses simultaneously.
Instant Status Updates, a $1 offering from Venikom, is similar to HootSuite's well-known $3 app. Both let users manage various social media accounts from one platform, and both allow geotagging on status updates.
But while HootSuite is designed for "power users" to manage multiple Twitter and Facebook pages, Instant Status Updates limits its users to one account for each platform. The new app is also limited to mobile devices; there is no corresponding Web service that lets users manage their account from a desktop computer. Venikom claims, however, that the app updates Facebook and Twitter faster than other methods.
Instant Status Updates is available for iPhone, iPod Touch and iPads running iOS 3.0 or later.