By its very name, you might think Twitter is ephemeral, your 140 character messages fluttering off into the ether as time passes. But what if you want to delve into the past of Twitter, or collect a bunch of tweets to refer to later?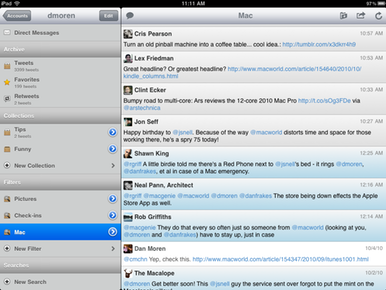 Riverfold Software's Tweet Library cures the case of the disappearing tweets. On its first launch, it'll suck down your last 3000 tweets to start off your archive. It also downloads the most recent tweets from those you follow as well.
From there, you can create collections—basically folders—of certain types of tweets (jokes, for example, or tips) and copy tweets to them. Tweet Library also lets you make filters that automatically look for certain words in a tweet, sort of like one of OS X's Saved Searches.
Once you've made a collection, you can send it via e-mail, export it to a comma-separated values file that you can access via iTunes on your Mac or PC, or publish it to TweetLibrary.com for others to see.
Besides its archiving feature, Tweet Library is also a capable Twitter client in its own right: it allows for posting tweets, setting up multiple accounts, and viewing conversations and inline pictures. It also supports both Instapaper and TextExpander.
Tweet Library requires an iPad running iOS 3.2 or later and costs $10.