Fujitsu's newest cell phone might have users seeing double. The handset has two screens and thanks to an innovative user-interface design the extra screen real-estate could help bring clarity to cloud-based mobile services.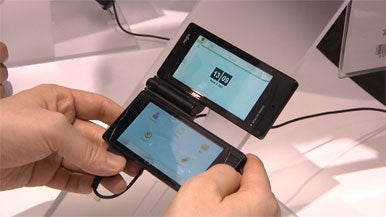 The phone, which is on show at this week's Ceatec electronics show in Japan, is only a concept and Fujitsu doesn't have a firm commercialization plan at present, but it was developed with an eye to future LTE data services.
NTT DoCoMo is scheduled to launch an LTE network this year that will support download speeds of up to 75Mbps, which is several times faster than current 3G networks. The introduction of the technology is expected to spur the development of new cloud-based services.
"We wanted to gather cloud data and local data, but if you have only one screen it will be a bit complicated," said Masashi Tanimura, who works at Fujitsu's UI planning center in its mobile phone unit. To make it easier for users to understand, the company decided to use one screen to represent the cloud and another to represent local data.
In a demonstration of a photo sharing application, images stored in the handset can be transferred to the cloud with a slide of the finger on the phone's lower touch screen. By moving to the upper screen, the photos can be manipulated in the cloud, for example by choosing a folder in which to store them.
"We have some interaction so the user can notice it's going from the local side to the cloud service," said Tanimura as he demonstrated the sweeping motion of images from one screen to another.
When closed the phone looks like a conventional clamshell handset. Only when it's opened up does it become clear it's something unusual. The phone can be used like a clamshell, with each screen in portrait orientation, one above the other, or thanks to an versatile hinge can twisted around so that the screens move to landscape orientation one above the other.
In some applications the extra screen space is used to bring clarity to the mobile desktop. For example, when viewing mail the list of messages can populate the top screen and the content of the selected message is on the bottom screen.
NTT DoCoMo's LTE network is scheduled to launch in December. The first LTE handsets are due in 2011.