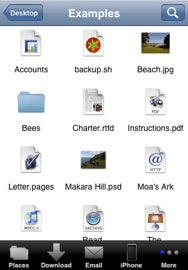 Last month, Apple removed FarFinder, Flying Mac's client for remotely accessing files on your Mac, from the App Store, after first warning its developer about the name in May. Now the app is back with a temporary new name—FarSomething—as Flying Mac prepares for a big version 2.0 update of the Mac version.
Flying Mac originally released FarFinder in April 2008 as a Mac utility for accessing your files from afar. It offered a browser-based interface back then, but the company released a free iPhone app, also called FarFinder, in March 2009.
Last May, Apple contacted Flying Mac with an objection over the use of "Finder" in its product name, despite interim updates which had all passed muster. Flying Mac hoped to postpone a name change until the release of FarFinder 2 later this year in order to avoid brand confusion. But after waiting a few months, Apple finally pulled the iPhone app in September and forced Flying Mac to change the name before the app would be available in the store again.
This isn't the first time that FarFinder has hit the App Store's proverbial brick wall. Apple blocked the original submission of FarFinder for using original icons and artwork from Mac OS X—despite the fact that other approved apps were doing this and that it was essentially a side effect of remotely accessing one's own files.
As of Wednesday, what was once FarFinder returned to the Store as FarSomething; it's available to download for free. (A license for the necessary Mac client costs $35.) As you might guess, this name is temporary until Flying Mac decides on a new name for both the Mac and iPhone clients. FarSomething requires an iPhone or iPod touch running iOS 3.1.3 or later.