Chris Paveglio has released a version 4.0 upgrade to his ID Image Catalog application for Adobe InDesign, adding support for Mac OS X 10.6, new design features, and bug fixes.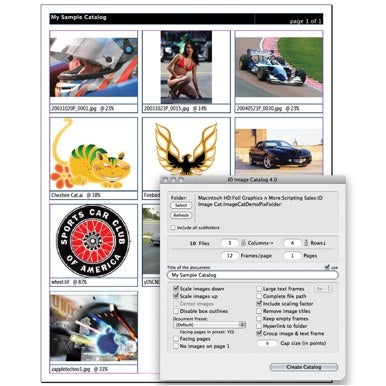 You can use ID Image Catalog to easily make InDesign contact sheets or visual catalogs of most major image types supported by InDesign.
Specify a folder of images, and the application automatically generates a frame-based InDesign layout with the titles and pictures. You can specify the number of image frames per page as well as what information you'd like to have displayed in text frames beneath them. Information that can be automatically displayed below your images includes file information, placement size, and the full path of the image.
Version 4.0 of the program has been updated with support for Mac OS X 10.6 and also includes new features like the ability to group image and text frames, an option to keep page one blank, increased text frame size, the use of object styles on all frames for easier customization, automatic updates, and a number of bug fixes and performance enhancements.
ID Image Catalog 4.0 costs $20 and requires Mac OS X 10.6; version 3.9, which supports 10.4 and 10.5 is also included in your purchase.