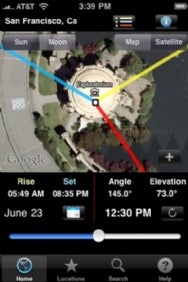 Photographers seeking the best natural light for their projects now have assistance in the form of two apps from Rivolu.
LightTrac allows users to plot photo shoots months ahead of time by using the location, date, and time of day to calculate the elevation and angle of the sun. It also offers a calendar of sunrise, sunset, and twilight times of day. Version 2.0 offers similar tracking of the moon for nighttime photography, as well as integration with GPS-capable iPhones.
VisiMoon 1.5 is a similar app, but exclusively focused on nighttime photography and sky watching. The app offers users a location-specific list of nights the moon is visible above the horizon after sunset, along with a moon-phase calendar. Users can also set alerts for a full moon or similar nocturnal events.
LightTrac 2.0 is $5, a limited-time reduction from its usual $6 price. VisiMoon is $3. Both run on iPhones, iPod Touches and iPads running iOS 3.0 or later.