I hope you're sitting down before I drop this bomb on you, but there is absolutely no shortage of iOS photography apps that let you enhance and share photos. But Instagram from Burbn is a newcomer with an interesting feature set and an unbeatable price.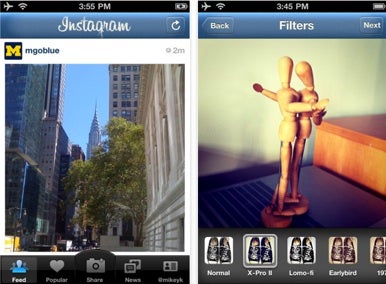 Instagram covers all the basics of a good photo app. You can snap a photo or pick from your library, switch to the front-facing camera if you have an iPhone 4 or fourth-generation iPod touch, and easily enhance your shot with a healthy array of stylistic effects. You can also share photos to Twitter, Facebook, Tumblr, Flickr, and Foursquare, and even attach location information. It's basically a newer, polished version of Camera+, sans the heavy-handed interface and App Store rule-breaching features.
If that's not enough to pique your curiosity, Instagram also features its own built-in photo-sharing network that is essentially designed just for the iPhone and iPod touch (at least for this initial release). You can add friends, upload photos that are optionally geo-tagged, and comment on friends's photos, all inside the app. (In fact, there is apparently no way yet to access Instagram network outside of the app.) Granted, joining and participating in Yet Another Social Network might be a hard sell in the age of Twitter, Facebook, and Flickr, but there is a certain convenience in Instagram's unique support of all those networks in addition to its own.
Many photography apps offers some of these valuable features (especially "turn me into a cool photographer" effects) for a price of $1-3, or sometimes more. Instagram might interest some users for no other reason than, at least for now, it's free. In fact, Burbn told Macworld via e-mail that it plans to keep Instagram free for the foreseeable future as it builds a following, and might later experiment with in-app upgrades or other plans to actually bring in revenue.
Instagram is available now for free in the App Store and requires an iPhone or iPod touch running iOS 3.1.2.