Whether it's the kitchen of a four-star restaurant or of a home cook just trying to get dinner on table in a timely fashion, organization is everything. Long before anything hits the pan, you should have every ingredient measured out and within reach to avoid those last-second scrambles that usually end up with your entrée burnt beyond recognition. There's even a term for it—mise en place—which more or less means "everything in place."
Given that 20 Minute Meals carries the imprimatur of celebrity chef Jamie Oliver, it's little wonder that the $8 app for the iPhone and iPod touch from Zolmo places such an emphasis on organization. In fact, the cooking and recipe app is so meticulously put together, its superior design easily overshadows a few nagging flaws that might otherwise leave a bad taste in your mouth.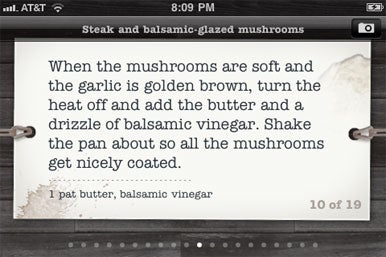 20 Minute Meals offers around five dozen recipes, organized into categories like "easy pasta," "simple risottos," and "tasty stir-fries." The app includes a few vegetarian recipes, even breaking those out into their own category. Tap on a recipe, and you'll be treated to a tabbed interface—the Summary screen shows a picture of the finished dish, a You'll Need tab lists the ingredients and cookware required, while Steps walks you through the recipe. In a particularly clever touch, a button in the upper right corner of each recipe shows you the number of servings for each dish (either two or four people). For some recipes, you can tap that number to switch between the two- and four-serving amounts of ingredients—ideal for those times when you want to serve that spicy cod with lemon zucchini couscous to four diners instead of just two.
It's the Steps tab where 20 Minute Meals really shines. In portrait mode, you simply swipe up and down to move from step to step, with each step containing clear instructions along with the specific ingredient needed at that point. Flip your iPhone or iPod touch sideways, and the steps re-orient themselves into a landscape view that also gives you the option of tapping to see a photo of that particular step. (On select steps in landscape mode, Jamie Oliver himself will pop in with an audio tip about preserving some pasta water or using fresh spices.) Moving from step to step in landscape view is a simple matter of a sideways swipe. The landscape view is my preferred way to use 20 Minute Meals—the way the app presents a recipe in that view really makes it easy to get from prep time to plating.
20 Minute Meals offers a few other features worth noting. At the bottom of the Ingredients tab, you have the option to add all the ingredients to a shopping list that's accessible from a menu on the bottom of the app's screen. You can only add every ingredient to your shopping list as opposed to individual items, though you can delete items from within the list. You're also able to add your own custom items to the shopping list, though 20 Minute Meals will group them under an Other category on the list; ingredients from the app's recipes are grouped by food type (meat and seafood, breads and baked goods, and so on). The shopping list feature isn't a bad addition to 20 Minute Meals, but it's pretty limited. It certainly won't make you cast aside a dedicated shopping app like Grocery Gadget.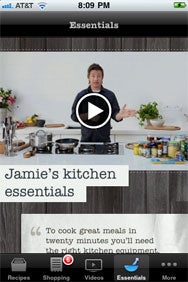 A Videos pane gives you access to 18 videos featuring Jamie Oliver and covering a variety of topics—everything from knife skills to stir-frying tips to shopping for fresh fish. You'll need a Wi-Fi connection to download the videos—they don't come with the app—but once you've added them, you can access them at any time. The videos prove to be quite helpful, as does an Essentials pane that gives you the 411 on ingredients and equipment you should always have on hand.
The list of recipes in 20 Minute Meals includes a Latest Recipes category, which suggests that the developer plans on adding to the app's meal options in future updates. That said, as of this writing, the app hasn't seen an update since May 2010 when five new recipes joined the roster. It'd be nice to see more updates in the future, as that would add to the value of the app.
But frequency of updates isn't the biggest problem I have with the app—rather, it's the fact that 20 Minute Meals is a walled-off app in which information can neither enter nor escape. There's no place for jotting down notes about a particular recipe, so if you disagree with Jamie Oliver's seasoning or would like to swap out crème fraiche for a more accessible ingredient, you had best commit those changes to memory. 20 Minute Meals won't let you add them to a recipe. More bothersome is the fact that there's seemingly no way to e-mail or print from the app, so you've got to keep your iPhone close at hand while preparing a dish. Even if you can get past the unease of having your not-inexpensive mobile device near open flame, even the most fastidious cook can't prevent the occasional splatter. After I whipped up a very delicious pappardelle with mixed mushrooms and mozzarella, my iPhone's screen required a very thorough scrubbing to remove unwanted reminders of my meal. I can only imagine the anxiety that would come with juggling both a phone and raw meat. Some times, the printed page has its advantages over a multitouch interface.
Which is not to say that the adventurous home cook won't find plenty to like about 20 Minute Meals. The app's superlative organization makes it a breeze to use and gives other mobile software makers a master class on how to design an app. But the inability to get those exquisitely organized recipes into a more kitchen-friendly format prevents a very good app from becoming a great one.
[Everything Macworld.com executive editor Philip Michaels knows about cooking, he learned from watching Good Eats.]