Mariner Software has released an update to its recipe and wine management software, MacGourmet Deluxe, giving it a reworked user interface as well as new feature additions and updates that include a new Recipe Import Assistant and Chef View.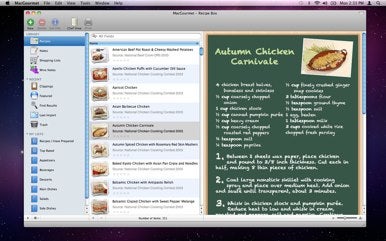 MacGourmet lets you create and edit recipes, make wine and cooking notes, browse your collection, and build category lists like "appetizers." You can publish your recipes to Apple's MobileMe Web-based service or to your own blog; you can also import recipes and print them out on index cards.
The new Recipe Import Assistant lets you easily import recipes found on the Web to add to your collection, while the new Chef View utilizes speech recognition, Apple Remote support, and text speaking support to let you easily access your Mac while you're cooking. MacGourmet Deluxe 3.0 also introduces new themes and other visual enhancements that let you customize the look of the app.
Other new features include the ability to scale recipe amounts based on the size of the batch or meal, create a cookbook from within the app that's print- and publication-ready, manage plug-ins using the new Plug-In Manager, and maintain a shopping list history to keep track of your kitchen inventory.
MacGourmet Deluxe 3.0 costs $50 and runs on OS X 10.5 or higher.