Editor's Note: The following article is reprinted from the Today @ PC World blog at PCWorld.com.
An air of mystique has surrounded Google TV, and Logitech's Google TV device—the Logitech Revue—since they first became public knowledge. On Wednesday, Logitech unveiled the Revue—and we got our first in-depth look at what Google TV can do.
Make no mistake: Today was a Logitech event, not a Google TV event, and what was shown here was centered around the Logitech Revue, which happens to take advantage of Logitech's Harmony remote control platform. The Harmony platform alone supports more than 5000 brands and 225,000 devices, which means you'll be able to control your audio-visual peripherals via the Revue system. And with those capabilities enabled in the $300 Revue, it adds to the device's potential appeal, as opposed to another scenario where, perhaps, the Google TV platform could be integrated into other devices.
However, at $300, Logitech faces a hard sell. After all, the current trend in streaming set-top boxes are to push prices down; to wit the latest Apple TV, Roku XDS, and WD TV Live Plus are all $100 or less. Sure, the Revue price includes one keyboard controller, and can to talk to audio-visual peripherals through cabinets, just as the $350 Harmony 9000 remote. And if you buy the added $150 TV camera peripheral, the Revue has the potential to grow the market to migrate video chat off of the laptop screen, and onto your television screen.
Plug-in box vs. new TV
Logitech's approach does make sense to a degree; after all, with some 60 million HDTVs in the market today, consumers who just bought a shiny, new TV in the past five years may not be rushing the gates to get the latest TV features, no matter how much the CE industry might like to think that will be the case. That makes the prospect for a TV with integrated Google TV (Sony will show theirs next week), or a TV with integrated Skype (like Panasonic's models), less influential in the short term.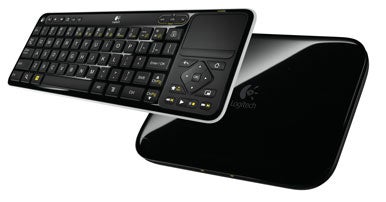 But Logitech's Revue has other limitations. For one, it will only work with HDMI-enabled set-top boxes. OK, sounds modern enough. But wait: That leaves out my Comcast Motorola DVR box and set-top box. And even if those did have HDMI out, the communication would only be one-way, not two-way, as was showcased today in admittedly nifty demos with Logitech's launch partner, Dish Network. (That means on ordinary set-top boxes, you can search and access the electronic program guide, but not the search the DVR, for example.)
The trick here, as Logitech president Gerald Quindlen noted, is seamless integration among content. Revue, claims Quindlen, is the "first platform that integrates the Web, broadcast TV, and apps seamlessly. And as the developer community and support grows, the potential for Google TV is unlimited."
Potential is the key word here. And it's potential for a new platform, and potential for a product running that platform.
The Google TV prospect
Conceptually, what Google is up to is very intriguing. Let's face it: Microsoft has tried, on numerous occasions, to rule the living room, first with its WebTV platform, and later its early set-top box software initiatives. But even with Windows' domination of PCs everywhere, Microsoft didn't achieve the scale with those products needed to create a new, viable TV platform that could be adopted widely.
Enter Google. Google TV is built on the Android operating system, and right now, Android is riding a huge crest of growth in the smartphone market, and is poised to make a similar impact in tablets, too. With a vibrant and growing developer community already behind it, Android apps geared for use on an HDTV could make Google TV a star—but for now, Android developers are having enough of a challenge getting content to scale from a phone handset to a 7-inch or 10-inch tablet, let alone scaling up to a 50-inch 1080p television.
Logitech said that its device won't get the Android Market until early 2011, and the company said it was too early to answer questions about how its device will scale Android apps. Knowing this, I find it too early to declare Google TV a winner just because of the app ecosystem potential.
With what little is known about it right now, I wouldn't be surprised if it took a year or more for a healthy Google TV app ecosystem to develop.
That you can use your Anrdoid smartphone to control a Google TV device seems enticing, too. There are already hacks and apps to turn a phone handset into a remote; Google TV takes that concept even farther.
In time, I can see Google TV supplementing or replacing the existing, often kludgy and inelegant on-screen interfaces of other devices, such as Blu-ray Disc players, and even network-attached hard drives and existing set-top boxes.
The Logitech Revue prospect
But without the ability to interact with other devices, as Logitech's Revue has, Google TV's prospects appear limited. The core differentiator with Logitech's Revue will be its ability to interface with other devices on your entertainment shelf. And that's a capability that other makers will be hard pressed to achieve.
Still, what I saw today from Logitech was less groundbreaking than the hype would have you believe. So many other devices today, from Blu-ray Disc players to set-top boxes to gaming consoles have allowed you to do components of what Logitech has shown here. And the Netflix app shown here was sadly not as competitive as it is on Roku and others; on the Revue you can access your Netflix Instant Queue, but you can't add items to it from your couch.
Even though I'm not buying into the hype, I do see potential. The Revue is DLNA certified, so it should play nicely with other DLNA-certified devices in your living room. It has two USB ports, and those ports will support hard drives and flash drives. And it should work with your NAS box, so if you have a media server, you can stream content from that (but, today, there's no Apple iTunes server support; but you should be able to access non-DRM-protected content).
Looking ahead
In the end, what Logitech unveiled is just a beginning. These are baby steps, and early adopters will pay for being first on the bandwagon. Yes, there's a need for unifying the disparate content sources. The question still remains, though, how well that disparate content can be unified. This may be a tougher challenge than even Google can tackle. After all, even 20 years after reunification, Germany retains some of its long-standing divisions. The chaos in the living room may prove to insurmountable barriers, too.
Revue
Price When Reviewed:
$88.39
Read our full
Revue review