If you like your Twitter apps like you like your typefaces—clean and minimal—HelTweetica may interest you. Taking its name from the classic Swiss font, HelTweetica is a free, open-source Twitter app for the iPad.
HelTweetica puts the core Twitter features front and center, while making other new and unique tools quickly accessible. When you launch the app from Felt Tip, the majority of your screen is dedicated to your timeline. Each individual tweet panel features small icons on the right side that allow you to reply, direct message, retweet, or add the tweet to you favorites. Tapping on a link or username will slide a new panel open with an in-app browser or a detailed view of the individual user.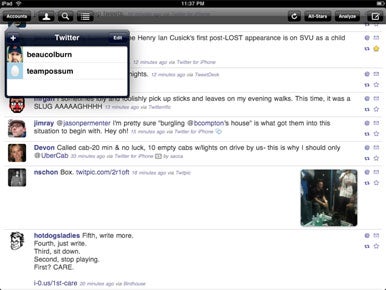 Tweets that contain links from common photo hosts such as TwitPic and Yfrog show thumbnails of the image in the tweet pane. If you tap the image, it will open full-size in a browser window that slides over. This can be a helpful way to quickly glance at an image and decide whether you want to click through or not. (How many LOLcats can you see, right?)
At the top of HelTweetica's screen, just below the menu bar, you'll find four tabs—Timeline, Mentions, Direct Messages, and Favorites—which provide quick access to any of those areas of your Twitter account.
Felt Tip has also built multiple account support into the app. An Accounts button on on the top left of the menu bar opens in a popover when tapped. Any accounts that you have set up will be shown here, so you can quickly switch back and forth. Each account in the popover displays a small icon to let you know if you have any unread tweets, direct messages, or mentions—a helpful way to check if another account you manage requires your attention, without having to leave your current active account. HelTweetica also offers built-in support for Lists, keyword searches, and quick user lookup.
There are a few fun extra tools built into HelTweetica as well. On the top right of the menu bar, an Analyze button will—when tapped—list the most frequent tweeters in your timeline. (You can adjust the period analyzed between two hours, and seven days). This can be a helpful way to see if someone is consistently cluttering your timeline. Next to the Analyze button, an All-Stars button turns the entire screen into a grid composed of the avatars in your timeline. Every few seconds a red box will randomly move across the avatars until it lands, at which point, the selected tweet will blow up into a screen-filling font. (And yes, you better believe the font is Helvetica.) Felt Tip calls this a "Twitter screen saver," and if you keep your iPad in a dock, it can be fun to let in run in the background like a digital picture frame that's constantly filled with tweets.
Most Twitter users have specific things that they look for in Twitter apps. HelTweetica may not have quite as much polish as some other Twitter apps, but it does a nice job of providing most of the features users are looking for, while adding some entertaining new ones.
[Macworld contributor Beau Colburn lives in Boston and posts a lot on Twitter.]