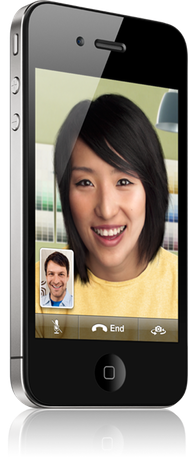 iPhone 4 users who can only video chat with each other will soon get more options once T-Mobile's MyTouch comes out.
Bridging the gap will be Yahoo Messenger, which will run on both phones, Yahoo said.
On Monday, T-Mobile announced the MyTouch, an Android phone made by HTC that comes with two cameras so that users can easily video chat with others. At the time, T-Mobile mentioned without elaboration that users would be able to video chat with other MyTouch owners, PC users and people with "compatible phones."
"You can chat with any phone that has a two-way camera, and that includes the iPhone 4," said Michael Shim, vice president of mobile business development and partnerships for Yahoo, on Wednesday.
People with phones with just one camera can also do the video chat, but they'll have to flip the phone to take video of themselves, then flip it back to see video of the person they are talking to on the screen.
Other than the iPhone 4, there are few phones that sport two cameras.
The iPhone 4 launched with FaceTime, an application for video chat. It only works with other iPhone 4 users, and so initially some people had trouble finding other people to video chat with.
T-Mobile hasn't said exactly when the MyTouch will go on sale, but said the phone will come out in time for the holidays.
This article has been corrected to properly identify the name of the T-Mobile phone that will offer video conferencing compatibility. The T-Mobile MyTouch was misidentified in the initial report.