After a couple of unsuccessful ports of the original Sonic the Hedgehog Genesis games to the iPhone and iPod touch, Sega has finally wised up and developed an original, native sequel for the classic side-scroller series. Sonic the Hedgehog 4: Episode 1 takes players back to Sonic's roots, employing the 2D side-scrolling format of the original series that saw its last installment in 1994 with Sonic the Hedgehog 3.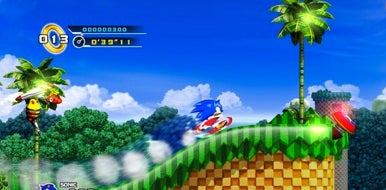 Sega released Sonic the Hedgehog 4: Episode 1 for a variety of platforms like the Wii, Playstation Network, and Xbox Live. Sonic brings not only his standard bag of tricks but a new "Homing Attack" to spice things up. The classic special stages for scoring bonuses are back, and the iPhone version gets two exclusive levels you won't find on the other platforms.
To be sure, a number of Sonic-branded games have come and gone over the years, but they typically pit Sonic, his friends, and his antagonists in a myriad of game types, ranging from pseudo-role playing to all-out three-dimensional assaults on the human senses. If you were a fan of the original gameplay, this may be the first actual sequel that entices you to lace up Sonic's red shoes once again.
As the name suggests, this is the first in a new episodic Sonic series that Sega plans to release over time. For this first episode, Sonic is the only playable character.
Sonic the Hedgehog 4: Episode 1 is available for $10 now in the App Store. It requires an iPhone or iPod touch running iOS 3.0 or later.