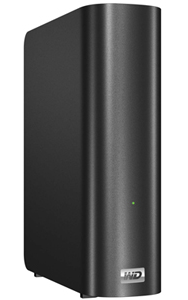 More and more, households contain a variety of networked devices, from computers to mobile phones to networked set-top boxes. All those added devices mean additional complexity when it comes to your data. One way of centralizing that data is a networked storage device, such as Western Digital's new My Book Live, released on Thursday.
A 2TB or 1TB hard drive with a Gigabit Ethernet connection for hooking up to your home network, the My Book Live is ideal for storing data you want everybody to be able to access—your digital pictures, music, and videos, for example.
The My Book Live's support for iTunes Media Server means computers on the network can stream media files directly from the My Book Live using iTunes on your Mac or PC; you can also view photos stored on the drive with an iPhone, iPod touch, or iPad by downloading Western Digital's free WD Photos app. And if you have a networked media device like a WD TV Live HD media player, Xbox 360, or PlayStation 3, or compatible Blu-ray player, you can even stream your media to your television.
In addition, you can set up remote access to your files so that you can get to them anywhere you have an Internet connection (however, you'll need to register for the MioNet service in order to do so). And the My Book Live is compatible with Apple's Time Machine, letting you back up your data to the drive over the network. (PC users can take advantage of the included WD SmartWare for Windows software to back up their files.)
The My Book Live is compatible with Mac OS X 10.5 Leopard or 10.6 Snow Leopard as well as Windows XP, Windows Vista, or Windows 7. A 1TB version retails for $170 with the 2TB model costing $230.