The $2 Blancspot app from Blancspot Media promises the "art of news," and it delivers on that promise. It does raise a question, however: Does anybody actually need their news combined with a trip-hop soundtrack? Probably not. But it's kind of cool.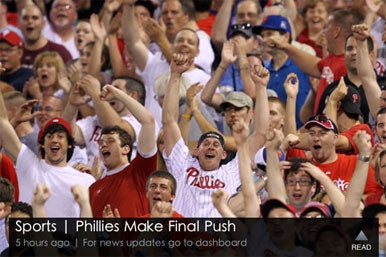 The app takes news photos and sets them to music in a Ken Burns-style slideshow of the day's headlines. (On the iPhone, you can only view the slideshow in landscape mode.) Click on the headline at the bottom of the photo, and you'll get Blancspot's aggregated roundup of what leading news organizations are saying about the story. If you like the song, you can buy it. If you like the story, you can share it via an array of social networking services. It's all kind of nifty.
If you're a news junkie, though, this isn't the app for you. Blancspot promises the news will be updated in "real time," but many of the top headlines were between seven and 18 hours old—and some even more stale than that—when I tested the app, even after the recent update to Version 1.3. And information consumers would probably rather thumb their way through a list of headlines than wait while the slideshow scrolls.
Blancspot is fun, but not necessary. Trying to mix news and art makes each less compelling.
[Joel Mathis is a freelance journalist and political columnist for Scripps Howard News Service. He lives in Philadelphia.]