For all the benefits notebook computers provide, they tend to have two common shortcomings: they often get too hot to be placed directly on your lap, and their built-in speakers leave much to be desired.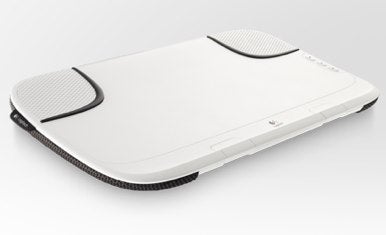 Logitech aims to solve both of these issues with its Speaker Lapdesk N550. Meant to act as a buffer between your lap and your computer, the $60 N550 features a 4-layer, heat-shielding design with soft, air-mesh fabric that lets you safely and comfortably use your notebook computer on your lap.
The N550 also boasts two integrated stereo speakers that should provide a much needed boost in sound quality and volume. The speakers receive power from your computer's USB port, so you don't need to worry about replacing any batteries.
The N550 is made for notebooks and netbooks that are 14.1 inches or smaller. For larger notebooks, the N700 Lapdesk should deliver the goods.