While the actual goal of Eyedip's Flight Doodle isn't, by any means, unusual (fly upward, avoid falling objects, collect prizes), the creators included several elements that make the action game feel fresh and unique. With amusing visuals and highly customizable settings, this addictive game is certain to keep players returning.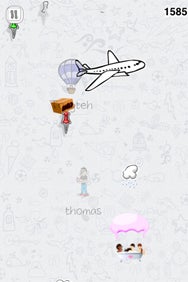 The basic idea behind Flight Doodle is to stay afloat as long as possible. After choosing a flying apparatus, players must tap their aircraft to untie it from the ground. The aircraft then immediately starts floating towards the sky. Points climb the higher you manage to float without colliding with one of the enemy objects. Players must tilt their phone or iPod left and right to avoid various obstacles sent to knock them out of the air. For the most part, the aircrafts move quite slowly and are often dragged to an excruciatingly sluggish pace by rain clouds, gusts of wind, and passing airplanes. Throughout the game, players can collect different bonuses (such as bursts of speed) that aid in advancing further in the game.
Flight Doodle takes place on a white backdrop that is littered with drawings. It's not uncommon to notice pencil-like sketches of stick figures and various animals floating through the air as you play. Ultimately, the background sets a fun tone to the game, which makes it a great app for adults and smaller children alike.
The best feature of the app is the level of customization that players can enjoy with both their flight crafts and game settings. Flight Doodle comes with several nonconventional crafts to fly around in—including a tub with three people lounging nakedly in bubbles—but I preferred to take advantage of the DIY option and design my own balloon. Players can paint hot air balloons any color and upload photos from their phone (my Lost balloon adorned with John Locke's face consistently scored the highest points). While the default setting uses falling safety pins as the main danger of ending the game, enemies are one of the many settings players have the option of customizing. A choice of other sharp objects is available to choose from.
Overall, Flight Doodle is a well-done game. The option to customize enemies, choose what music plays, and design a flight craft allows players to make the game their own. The developers put so much effort into making each small detail impressive, and their hard work resulted in a fun and creative game.
[Stephanie Kent is an editorial intern for Macworld.]