The Facebook mobile app on iPad gives you easy access to most Facebook features you need on a day to day basis, but sometimes, only the traditional Web browser view will do. Normally, this requires the rather tedious process of opening Safari, navigating to Facebook through the browser, and logging in—but no more.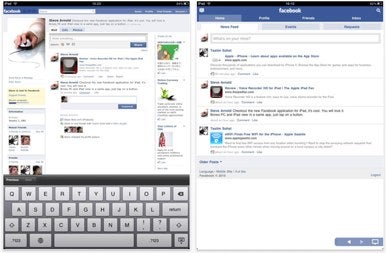 Dual Viewer, by eFusion, is an iPad app that makes it easy to switch between the iPad-optimized mobile Facebook interface and the standard browser interface. When in iPad mode, you get access to all of the standard Facebook mobile app features, including Places.
With the tap of a button, you can switch to PC mode, which lets you view Facebook as you would on a standard browser—which is ideal for more in-depth Facebook tasks, like managing a group or page.
Dual Viewer for Facebook costs $1 and requires iOS 3.2 or later.