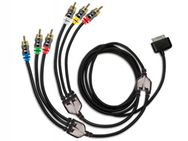 Photos, videos, music, all in the palm of your hand. But what if you want to share them with your friends and family? Crowding around an iPhone or even an iPad screen can be a frustrating experience. Scosche's new SneakPeek II simplifies things by letting you connect your iPhone, iPad, or iPod to your TV with your choice of component or composite cables.
Sure, Apple sells both component and composite cables that plug into its devices' 30-pin dock-connector port, but you each one sets you back $50. The beauty of the SneakPeek II is that it provides both and lets you choose which one you want to use, all for $60—only a slight premium on Apple's cables. In addition, an included micro-USB cable lets you actually charge your device during playback, so you won't run down your battery.
The SneakPeek II is compatible with the iPad; all models of the iPhone; all models of the iPod touch; the third-, fourth-, fifth-, and sixth-generation iPod nanos; the iPod classic; and the iPod with video.