Sonic the Hedgehog was always best when he was flying solo. Before Tails, and Knuckles, and his countless other friends, the original Sonic game was a fast-paced platformer that was an instant classic and tough to replicate. Sega has been trying to mimic the success of the first three Sonic titles for years, but it wasn't until Sega decided to go old school and create a new side-scrolling Sonic game that Sonic returned to form. Sonic the Hedgehog 4 Episode 1 is the first in an episodic series of arcade/action sidescrollers starring the iconic hedgehog. Without Tails or any of his animal friends, you must help Sonic defeat the evil genius Dr. Eggman once again and save the animals he has enslaved as robots.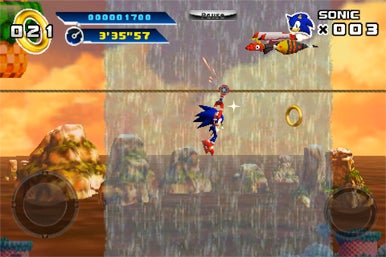 Those familiar with the original Sonic games will be spin-dashing in no time. You control Sonic either with on-screen directional and jump buttons or through tilt controls. Episode 1 contains four differently themed zones each with three acts followed by a boss battle. After completing the first level of the Splash Hill zone, you can play the remaining zones in whatever order you choose. These new stages include Casino Street (reminscient of the popular Casino Nights stages from Sonic 2), Lost Labyrinth (an aztec themed level), and Mad Gear (a familiar industrial level likened to one of the latter Sonic 2 missions). Similarly, as in Sonic 2, there are also several special stages you can find (seven in total). A homing attack simplifies gameplay by automatically targeting objects like robotic creatures or power-ups — this comes in handy since the touch controls don't have quite the precision of a physical control pad.
Everything that made the original Sonic games great is here. The action is fast and furious with high frame rates and detailed levels offering multiple paths to complete them. Alas, the graphics are also reminiscent of the original games and not up to the resolution iPhone 4 owners have come to expect. Though when Sonic is racing through at breakneck speed, you'll hardly notice. The retro 8-bit soundtrack can get repetitive, but you are free to listen to your own music from your iPod library. Unfortunately you sacrifice sound effects when you do so.
Sonic the Hedgehog 4 Episode 1 is a solid sequel to a legendary franchise. Fans will not be disappointed and given the title of the game, we will undoubtedly get treated to subsequent episodes. No social networking support is included, but Game Center integration is promised for a future update.
Sonic the Hedgehog 4 Episode 1 is compatible with iPhone, iPod touch, and iPad running iOS 3.0 or later.
[James Savage is the host of the RetroMacCast a weekly podcast devoted to older Macintosh computers.]