Adobe has released an update for BrowserLab, its hosted service that lets Web developers quickly preview Websites in different browsers and operating systems. The update adds Safari 5 support, an add-on for Firebug, and a new comparison tool feature called Smart Align.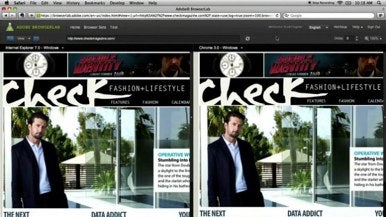 The ability to preview and test Websites across different browsers and operating systems is crucial for Web professionals to maintain design consistency and integrity across multiple platforms. BrowserLab helps you spot discrepancies by generating screenshots of your Web pages on different browsers, letting you view them side-by-side or stack them on top of one another with variable opacity.
Along with Safari 5 support, the BrowserLab update includes an add-on for Firebug—a Web development tool that integrates with Firefox—that gives Firefox users new functionality for quickly previewing edits they've made with Firebug and previewing how those edits hold up in other browsers.
Adobe has also added additional Dreamweaver CS5 integration enhancements and a new comparison tool enhancement called Smart Align, which lets you align screenshots to a specific point area of a page.
BrowserLab is part of Adobe CS Live, Adobe's subscription-based offering that also includes CS Review, Acrobat, Story, and SiteCatalyst NetAverages. Adobe is offering a free 12-month complimentary subscription for CS Live, after which further subscriptions will need to be purchased. The price of for-purchase subscriptions is yet to be determined, but Adobe estimates it will be between $20 to $30 per month.