While many people continue to consume music by purchasing it—on CD or via electronic emporiums such as the iTunes Store and Amazon.com—some also use music subscription services to get their daily musical fix. Once confined to the Web, many of these services now make their tuneful content available via iOS apps. Among them are Mog, Napster, Rdio, and Rhapsody.
But what—other than more music than you can listen to in a lifetime—do you get for your money? Tune in to find out.
Prices, devices, bit rates
These U.S.-based services all stream within the United States. Rdio additionally offers service to Canada, and Napster has service in Canada, the UK, and Germany. (Napster offers far fewer tracks in Canada—2.5 million—than it does in the other countries.) All four services offer different levels of service and price plans, depending on whether you intend to stream only to a Web browser or hardware device (the Sonos Multi-Room Music System, various Roku boxes, or Logitech's Squeezebox products) or also to your iOS device. Mog, Napster, and Rdio offer $5-a-month plans for Web- and device-streaming. For $10 a month these services additionally offer streaming and downloads to their free iOS apps. If you're willing to commit for an entire year, Napster also offers annual plans. For $50 a year you can have Web and device streaming; with mobile access and downloads included, the price is $96 per year. At one time Napster included five MP3 downloads per month with every subscription, but it has since discontinued that perk.
Rhapsody no longer provides a streaming-only plan. Instead, for $10 a month you get Web and device streaming plus the ability to stream and download to one iOS device. For $15 a month you can stream to up to three iOS devices.
Currently Mog streams to Roku devices. Sonos and Squeezebox devices support both Napster and Rhapsody. All of the services except Mog sell music as well as stream it. Purchased tracks from Rhapsody, Napster, and Rdio are DRM-free MP3 files encoded at 256 kbps.
The quality of the services' streams and downloads varies. Napster streams 128-kbps MP3 files to computers, 128-kbps WMA files to Sonos and Squeezebox, and provides 64-kbps AAC+ files for its mobile device downloads. Similarly Rhapsody streams 128-kbps MP3 files to computers and Sonos devices. The iPhone app streams and downloads 64-kbps AAC+ files.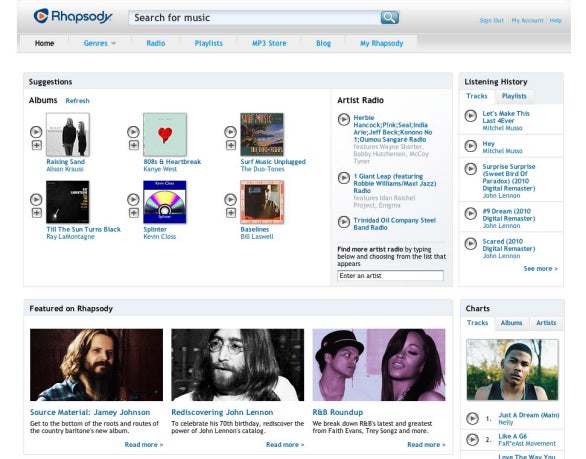 Mog provides 256- to 320-kbps MP3 streams to computers and Roku devices. The Web version will dial down to 128-kbps MP3 when it encounters a congested connection. iOS streams are 64-kbps AAC+. Normal iOS downloads are also 64-kbps AAC+ but you have the option to choose a High Quality setting that lets you download 256- to 320-kbps protected MP3 files.
And Rdio streams MP3 content at up to 320 kbps. Both Mog and Rdio must use phrases like "up to X kbps" because one major label provides streams no higher than 256 kbps. Rdio's iOS downloads are at the same bit rate as the streams.
Content
Each of the services has music libraries numbering in the millions of tracks. Rdio boasts more than seven million streaming tracks, Mog has approximately nine million, Rhapsody has more than 10 million tracks, and Napster's catalog includes over 11 million tracks (the services constantly update their catalogs so raw numbers don't mean a lot). Rhapsody and Mog display only tracks that you can stream. Napster also includes tracks and albums that can't be streamed but that you can purchase. Rdio will occasionally display tracks and albums that you can't stream or buy.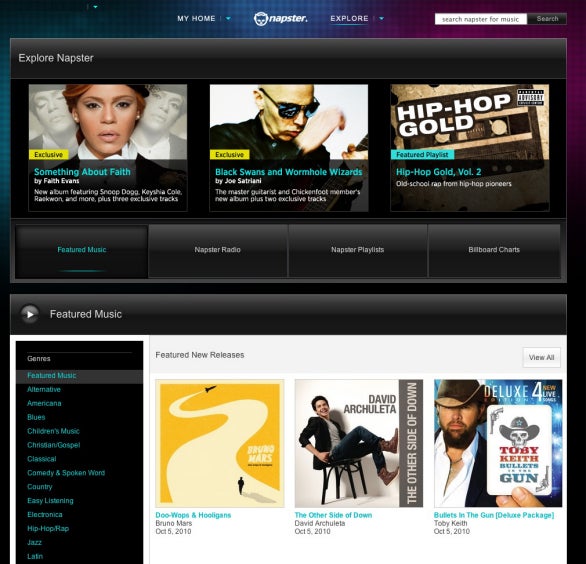 Given their huge libraries, it's difficult to determine where each service excels in regard to the content of its catalog. As far as current and recent popular albums are concerned, the services are competitive—you needn't fear that any of them will miss out on the latest Lil Wayne, Katy Perry, or Eric Clapton recording. None of them is as popular as iTunes or Amazon.com, however, so they lack the exclusive tracks available with downloads from Apple or Amazon.
It's when you dig deeper into their catalogs that you see some differences. For example, I searched each service for Bach's oft-recorded Mass in B Minor. Rhapsody had 36 recordings, Napster had 28, Mog had 26, and Rdio had 18 (on Rdio 28 recordings were listed but 10 of those weren't available). Venturing into the more adventurous areas of the classical world, I searched for composer Mauricio Kagel—score 10 albums for Rhapsody, three for Mog, two for Rdio, and one for Napster. I then looked for recordings by 1980s New Wave artist Ian Dury. Rdio had no albums, Mog had a single greatest-hits recording, and Rhapsody and Napster each had seven entries (though some were singles). Of those, Napster would stream only six cuts of Dury's The Bus Drivers Prayer & Other Stories, while Rhapsody could stream all 21 tracks.
Differences were clearer with the latest John Lennon remastered releases. Power To The People – The Hits was available for download-only on Rdio and Napster. Mog didn't offer it at all. And Rhapsody had it available for both streaming and download. And this generally reflects my experience with Rhapsody. Where other services have holes, Rhapsody often delivers the goods.
Channels and related radio
One inherent advantage to subscription music services is that they're free to stream complete tracks from a massive library to their subscribers. This allows some of these services to provide streaming music channels that play songs related by theme—a genre or time period, for example. Additionally, like Pandora, they can stream music similar to an artist of your choosing. All four services offer such stations.
Mog also has a radio function, though not one that offers genre-related stations. Unlike similar features offered by other services, Mog includes a slider that lets you determine how much the original artist will be represented in the playlist. Drag it to Artist Only and only music performed by that artist will populate the playlist. Drag the slider to the right toward Similar Artists and other artists get mixed in.
Napster offers an Automix feature that lets you choose an artist and create a playlist populated with tracks by that artist and related artists. Unlike with Pandora you can view upcoming tracks in the playlist, rearrange their order, and delete those tracks you don't want to hear. Napster also has a collection of 61 genre-based radio stations (though there are also 1960s, 1970s, 1980s' and 1990s stations). Additionally, it has a collection of featured playlists as well as a Billboard Charts section where you can browse top albums and tracks.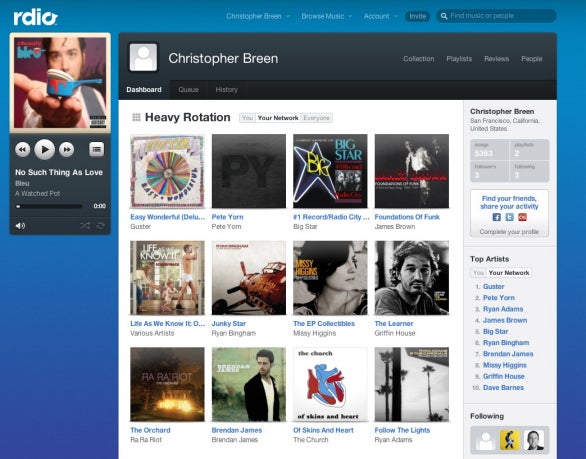 Rhapsody offers more than 200 channels of its Rhapsody Radio—including 1980s hits, Acid Jazz, Traditional Country, and Urban Latino. It also lets you create artist radio stations and provides you with artist stations that work very much like Pandora. Go to an artist's page and click the Play button in the Artist Radio Station area. A window or tab opens with the Flash-based Rhapsody player and streams the station. As with Pandora, you don't have the option to see upcoming tracks. You can, however, see previously played tracks. This makes it easy to revisit tracks and artists that caught your ear.
Rdio offers its Rdio Stations on each artist's page. So, for example, enter Shawn Colvin in Rdio's Search field, select her artist page from the list of results, and on the page that appears, hover your cursor over the Start Rdio Station link. A pop-over menu appears that lets you choose to listen to 25, 50, 75, or 100 songs. Play Now and Add to Queue links appears as well. You can additionally turn recommendations on or off. When they're off you'll get a playlist of tracks just by that artist. Choose On and you'll see a mix of related artists. Click the Rdio Stations link and the tracks appear in the player's playlist and start playing. Click that Playlist icon to view the playlist, edit and refresh its contents, download available tracks, and add tracks to your collection.
Music discovery
In a time when fewer people turn to the radio for exposure to the day's music, where do you go to learn about music you might enjoy? The virtual radio stations offered by these services is one avenue. Another is using a social networking model to find people whose musical tastes are sympathetic to yours. Look at what they're listening to and it's likely you'll find music that you'll like too. An additional way is through playlists and charts.
Social networking is a lot of what Mog's about. You create a profile where you can add a picture and notes. As you follow people and blogs, they're added to your profile. When you click on a profile you follow, you see a list of the 10 songs last played by that user and his or her top tracks and albums of the month and week. Playlists are another way to find music on Mog. The service highlights the most often played playlists, user-created playlists, and artist-created playlists. The site also features music news and reviews.
Subscription Services
| Service | Web-only cost (per month) | Web + iOS cost (per month) | Supported devices | Streaming bit rate | Download bit rate (mobile) | Content |
| --- | --- | --- | --- | --- | --- | --- |
| Mog | $5 | $10 | Roku, iOS, Android | 256- to 320-kbps MP3 | 64-kbps AAC+/up to 320-kbps MP3 | 9 million tracks |
| Napster | $5 month/$50 year | $10 month/$96 year | Sonos, Squeezebox, iOS, Android | 128-kbps MP3 | 64-kbps AAC+ | 11 million tracks |
| Rdio | $5 | $10 | iOS, Android, BlackBerry | 256- to 320-kbps MP3 | Up to 320-kbps MP3 | 7 million tracks |
| Rhapsody | N/A | $10 for 1 device/$15 for 3 devices | Sonos, Squeezebox, iOS, Android, BlackBerry | 128-kbps MP3 | 64-kbps AAC+ | 10 million tracks |
Napster relies on Facebook for its social networking. If you find something you like on Napster, simply click Facebook's ubiquitous Like button, enter your Facebook information, and your recommendation appears on your Facebook page. Napster also tracks what other users like and makes recommendations based on this information. Visit an album page and click the Other Members Like button to reveal a collection of albums that go well with the selected album.
Rdio also plays the follow game. Click the People link at the top of the home page and then the Find People To Follow link on your Following page and you see a page with suggested users to follow. This page lists the site's most-active users, the artists they like, and thumbnails of albums they've listened to a lot in the last month. To follow someone, just click the Follow button in that person's profile. You can also send invitations to people you know via e-mail, connect to Facebook and Twitter friends, and import contacts from Yahoo Mail, AOL Mail, Gmail, and Hotmail. Additionally, you'll find a Recommendations page that suggests albums based on artists in your library. (Rdio attempts to upload a list of tracks in your iTunes library to its service, which helps it make recommendations based on your music library. I've found that it's hit-and-miss as it finds some of the music in my iTunes library but hardly all of it.) The home page offers not only top albums and songs, but top playlists as well. And users can also review albums.
Rhapsody lets you create a profile that includes a URL for your profile page, a screen name, and some music-related information—your favorite artists, first concert, favorite concert, and artist you would ban from ever making music again, for example. By looking at profiles, Rhapsody users can decide whose playlists are worth watching. Rhapsody will also recommend albums based on the music you've listened to on the service. And Rhapsody has a playlists area where you can browse celebrity picks, theme/holiday mixes, decade mixes, single artists mixes, and label spotlights.
The Web experience
If you use your computer to listen to music from these services, you must do so with the help of a Web browser. Although Rhapsody makes a player application, it's for Windows PCs only. And while Rdio offers the Rdio Desktop player (an Adobe AIR application), it's only for controlling the currently playing album or playlist. You can't search Rdio with the player and so must first choose the music you want to listen to and then, optionally, use the player rather than the Web interface. All of the services use Flash to play content on their Websites.
Most of these services' sites put new releases and top albums and tracks on the home page. Specifically, Mog includes new releases; editor's picks; featured playlists; and top artists, albums, and songs of the week. Napster displays featured new releases, top albums, staff picks, top songs, and top albums. Rdio, reflecting its social nature, puts heavy rotation, top artists, and recent activity (what those you follow are doing) on the home page. And Rhapsody's home page offers suggestions, featured on Rhapsody, listening history, charts, and new releases sections.
All of the sites have prominent search fields that allow you to search for tracks, albums, and artists. In this regard, if you know what you're looking for, you're set. Napster and Rhapsody additionally allow you to easily browse genres thanks to genre lists and menus found prominently on the home page. Mog and Rdio don't have any obvious genre listings, and instead focus more on playlists and recommendations.
Each site also lets you create and save playlists. Playlists are important not only for sharing recommendations with others as well as allowing you to revisit the music you like, but also because these playlists are also accessible from your iOS device running a service's app.
The mobile experience
Speaking of which, all four services have released free iOS apps that let you listen to all the music available on the service and listen to tracks you've downloaded to the device (downloads are included as part of the price of the subscription).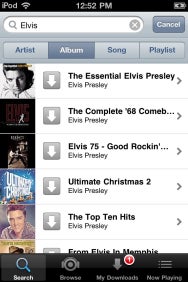 The Mog app presents you with a home screen that includes Search, New Releases, Mog Charts, Today's Picks, My Favorites, My Downloads, and Play Queue icons along the bottom of the screen. Tap Search and you can search by artist, album, song, or playlist. The search results screen includes Albums, Songs, Playlists, and Mog Radio entries. The radio feature is also accessible from the Now Playing screen and, like the Web interface, features a artists only/similar artists slider. New Releases displays a screen of 30 recently released albums. Mog Charts displays 50 tops songs, albums, or artists. Today's Picks shows you 30 albums Mog thinks are worth your attention—both new and older. My Favorites are those artists, albums, and songs you've designated as such.
My Downloads displays all the music you've downloaded, sorted by artist, album, song, or playlist. And Play Queue displays all the tracks in the queue. It's very easy to download albums and tracks. Next to each is a Download button. Just tap it and the item downloads. Within the My Downloads screen, tap Download Settings and you see that you can choose to download music as 320-kbps MP3 rather than in the lower-quality (but space saving) 64-kbps AAC+ format. In this same screen you see how many tracks you've download and the amount of space they consume. You can delete them all by tapping a Delete All button.
The Napster app offers four broad sections—Explore, Collection, Search, and Player. In the Explore area you see New Releases, Napster Playlists, Billboard Charts, Napster Top 100s, Explore by Genre, and Automix entries. Tap Collections and you find the music you've chosen or has been recommended specifically to you—My Artists, My Playlists, My Albums, Recommended, My Top Songs, and My Play History. Search produces a Search field. And Player is where you control playback of your music. You can additionally edit tracks in the queue.
When you find something you like, you're welcome to save it to your iOS device by tapping Save Offline. The music will download to your iPhone, iPod touch, or iPad and you can then play it without a Wi-Fi or 3G connection.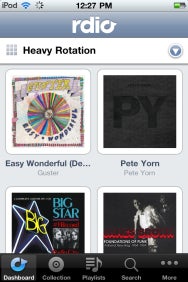 Rdio's app has five buttons along the bottom—Dashboard, Collection, Playlists, Search, and More. Dashboard can be configured to show recent activity (what the people you follow are doing), heavy rotation, your Web queue, and your listening history. Select an item in one of these lists and it plays. Collection is a list of your online library, organized by artist. Again, this list is initially derived from the list of tracks in your iTunes library that you've synced with Rdio. Playlists are all those playlists you've created on Rdio's site. Search produces the expected Search field. And tap More to access the app's settings.
When you view tracks or albums you have the option to save them to your collection or to download them to your iOS device by tapping a Plus button and choosing the appropriate option. (If music is already in your collection, it has a check mark next to it. Tap the check mark to download the associated music.) You can download other people's playlists, but not add them to your collection by tapping this same Plus button when viewing a playlist. Music you've downloaded appears in your collection with an orange check mark next to it, making it easy to identify when you're offline.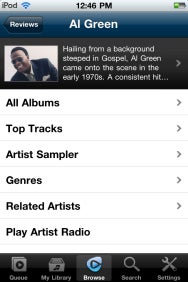 The Rhapsody app has five buttons arrayed across the bottom of an iOS device's display—Queue, My Library, Browse, Search, and Settings. Queue lists all the tracks you've added to the Queue, both online and within the app. You can edit this queue as well as save it as a playlist. Tap My Library and you see entries for Artists, Albums, Radio, and Playlists. Artists and Albums reflects the music you've listened to on the service. Radio lists those Rhapsody radio channels you've added. And Playlists lists any playlists you've created. When you tap browse you find Genres, New This Week, Charts, Rhapsody Radio, Playlists, and Listening History entries. These are largely self-explanatory except for Playlists. In this case the playlists include not only those that you've created, but also playlists generated by Rhapsody and celebrities. Search does what you'd expect. And Settings offers app settings.
Downloading tracks from Rhapsody to the app isn't straightforward. To do it you first have to add music to a playlist. Once you've done that, tap the My Library button at the bottom of the display, tap the Playlists entry on the screen, locate the playlist that contains the music you want to download, and tap the Download button next to the playlist. The means for purchasing tracks isn't much more evident. Although Rhapsody sells music on its Website, you can't purchase music from Rhapsody via the app. Instead, tap and hold on an item in the app and a sheet appears that lists Buy From iTunes at the bottom. Tap that option and the iTunes app opens and takes you to a search page that displays the item you want to purchase.
Who they're for
In the days when subscription services were tied to Web browsers, they were a tough sell unless you used them primarily to preview full-length tracks rather than live with the 30-second previews offered by the iTunes Store and Amazon MP3. Although many people listen to music while working or playing at their computers, those computers generally don't serve as a primary music player. Move to another part of your home or outside and that music isn't available to you.
Thanks to devices such as those from Sonos, Squeezebox, Roku, and TiVo, some of these services are making their way into other rooms and to higher-quality audio systems, where their convenience becomes more apparent. And now that they can stream (and download) to iPhones, iPod touches, and iPads, they become enticing mobile music options.
Yet two groups of people will object. The first are those who demand that they own their music. For them, the idea that their music libraries will disappear when they stop paying their subscription fees is unacceptable. (Subscribing doesn't preclude also purchasing the music you most enjoy, but some notions are hard to shake.) The other is the most persnickety audiophile. Those with keen hearing, a perfectionist bent, and the kind of quality equipment that exposes audio anomalies in the streams will resist such services. I, however, routinely listen to subscription music with a Sonos system connected to high-quality B&W speakers and find the sound quite acceptable.
Is it time to try?
Recent rumors suggest that even Apple is exploring music subscription. And if any company can sell the idea, it's Apple. Fortunately, you don't need to wait for Apple to add subscriptions to iTunes to reap the benefits. Of the four services, I favor Rhapsody. Mog and Rdio may offer higher bit rates—both on the Web and in their iOS apps—and Napster's annual subscription plan is less expensive, but I like the completeness of Rhapsody's catalog, its integration with my Sonos system, and its wealth of radio stations. But that's just me. Each of these services offers a free trial—one where you can take both the Web interface and app for a spin. If you're a music enthusiast, interested in exploring music not in your iTunes library or CD collection, you owe it to yourself to give one or all of these services a try.
Updated 3:00 PM 10/12/10 to describe Rdio's Rdio Stations feature.
Rhapsody Premiere Streaming Service
Rhapsody Premiere Plus Streaming Service
Napster Plus Mobile Access Streaming Service
Napster Streaming Service
Rdio Unlimited Streaming Service