ReaddleDocs for iPad is an impressive app with an impressive description. It's a file editor, a PDF reader, a Dropbox viewer, and a flash drive simulator. In other words, the app from Readdle is just like its iPhone counterpart—only better.
The $5 app's main mission is to let you read your files on the go. You get your files into ReaddleDocs pretty much however you please: You can sync with Dropbox, Google Docs, MobileMe, FTP and SFTP servers, WebDAV servers, Box.Net, iCloud, and other services; you can give the app access to your e-mail so that it can parse attachments; and you can use the app as a virtual flash drive, dragging files from your Mac directly into ReaddleDocs when your iPad and computer share the same Wi-Fi connection.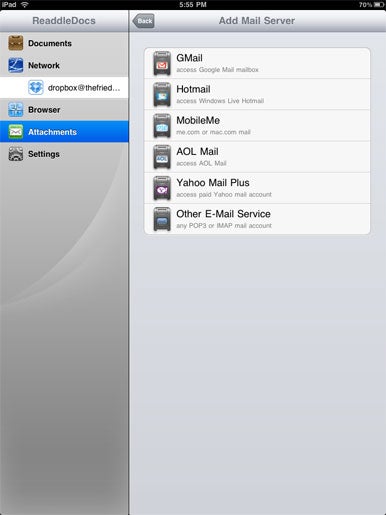 In other words, no matter where your files are, it's a cinch to get them into ReaddleDocs. Each method is intuitively presented, and instructions are available if you need them. The developer even offers a free service called Readdle Storage, where you can store about half a gigabyte of files to sync to the app. Regardless of how you get your files onto your iPad, once they're in ReaddleDocs, you can do plenty with them.
If you're looking at a text file, ReaddleDocs lets you edit it, view it, or e-mail it, all without ever leaving the app. You can't edit files in other formats (like Microsoft Word files or PDFs), but the app makes it easy to read them. And if you want to edit those, the app provides an "Open with…" option under iOS 4, which lets you choose from other compatibile apps on your iPad.
PDF reading is where ReaddleDocs really shines. While you can choose to use the iPad's built-in PDF view, the app provides its own full-featured PDF reader that's certainly worth using. You can add notes and highlight passages, search for words or phrases, jump to a specific page, and add and view bookmarks. While word processing and text documents are presented as long, vertically scrolling documents, PDFs are paginated horizontally; you swipe to turn pages, just like in a traditional e-reading app.
ReaddleDocs's file management is impressively robust. You can rename files, move them, copy them, delete them, e-mail them, or zip them up. It's also easy to create new files and folders.
The app cleverly includes an embedded Web browser. If you use ReaddleDocs as a text word processor, you can hop into Google to check a fact without needing to switch to Mobile Safari. Even better, you can save Web pages—either as HTML files or full Web archives.
Frankly, ReaddleDocs on the iPad is far more attractive than the iPhone version. The app has a lot more room to breathe, and the extra roominess doesn't just make documents easier to read—it makes the app easier to navigate, too. As an added bonus, the icons look a lot better in the iPad version, too.
ReaddleDocs packs a lot of power. I'm able to endorse it so enthusiastically because of its plentiful feature set. I no longer need the Dropbox app on my iPad. I also don't need other dedicated PDF readers, or other apps that make the iPad work like a remote hard drive for my Mac. And I don't need a plain-text editor, either. Any one app that can replace at least four others on my iPad deserves praise, and indeed ReaddleDocs gets mine.
[ Lex Friedman is a frequent contributor to Macworld.]