Expenditure from Shape is a simple little app that helps you track and organize your finances with a minimum of fuss. But the $2 offering lacks some of the features of its free competitors, even if is a little easier to use.
Entering expenses and income on the app isn't complicated, and Expenditure lets users attach photos and notes to remind them where their money went. You can pre-program recurring expenses and paychecks, making it simple to keep a running tally of how much money you have available. That number is featured in a large font size whenever you launch Expenditure.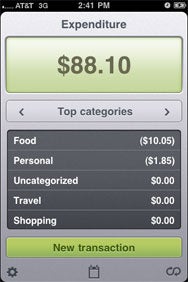 The problem? Expenditure is entirely self-contained. There's no way to export data from your iPhone to your computer, or vice versa. Free offerings like Pageonce Bills and Mint.com let you access your data via the Web from desktop computers, at least. They also plug into your online banking and bill-paying accounts. Expenditure lacks these features.
Expenditure Lite, a free version of the app, is just a demo of is paid cousin, letting you enter only eight transactions; after that you must delete earlier transactions or buy Expenditure. You're better off finding a free app that provides a full range of services, or upgrading to the paid version of Expenditure, provided you can live with its limitations.
[Joel Mathis is a freelance journalist and political columnist for Scripps Howard News Service. He lives in Philadelphia.]