MacSpots on Monday announced the release of Gifts HD for the iPad. The app aims to help you not just track gift ideas for your friends and loved ones, but also to budget and even comparison shop for those gifts, too.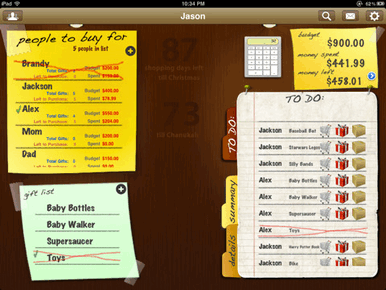 The $5 app lets multiple users enter their own password-protected gift lists, so the whole family can track its holiday shopping without spoiling the surprise. Users can assign budgets to each lucky recipient on their lists and the app includes a built-in to-do list and calculator—so you can remain both painfully generous and painfully organized as you research the perfect gifts.
Gifts HD can also pull in names from your device's contacts and it allows you to quickly and easily search Google Products for the best price on a gift. In addition, there're configurable countdown timers to both Christmas and Hanukkah.
At press time, there was no word on whether Gifts HD includes support for indicating which individuals on your list are naughty or nice.
Gifts HD requires an iPad running iOS 3.2 or later.