Dragontape, a collaborative Web service that lets you create 3-hour-long "mixtapes" of your favorite YouTube clips, has been updated to include embedding capabilities, improved tape controls, and other minor changes.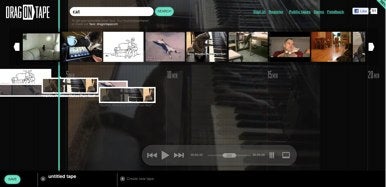 Dragontape is a free Web service that uses a Flash-based visual editor to let you string YouTube videos together, similar to using a tape recorder. What sets Dragontape apart from YouTube's own playlist feature, which also lets you organize and view a series of videos, is its ability to offer continuous, uninterrupted play between videos.
The Dragontape visual editor is remarkably simple: enter the name of a YouTube video in the built-in search bar and a series of results appear at the top of the screen. From there, it's just a matter of dragging and dropping your desired videos into the timeline and pressing play.
When you're happy with your mixtape, you can share it as a link or, with Dragontape's new Takeaway feature, embed it into Facebook or a blog post.
Dragontape is currently in beta, and the developers are working on adding new features, including adding compatibility with other video services like Vimeo and DailyMotion. An HTML5 player is also in the works, so iOS users will at some point be able to enjoy Dragontape videos on their devices.