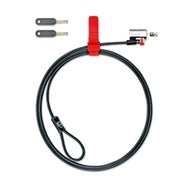 Don't want your laptop computer to wander off with a thief? The solution is often to tie it down to a heavy piece of furniture, but the annoyance of many locks means that most users don't bother.
Simplicity is the theory behind Kensington's new ClickSafe laptop security system. The system comes in two parts: the first is a small anchor that clicks into the security slot found on most laptops (although Apple's MacBook Air is an exception). Once the anchor's attached, you can secure the computer with the lock itself, looping its high-carbon steel cable around a table leg (preferably one that's hard to lift or that's attached to the floor) or any other sturdy piece of furniture and clicking the lock into the anchor.
But the key with the ClickSafe—if you'll excuse the expression—is that securing it is as easy as clicking the lock into the security slot; the ClickSafe's key is only necessary to unlock the computer later.
The new product is also more mobile than Kensington's Laptop Docking Station, which is a vise-like apparatus that attaches to a desk via several screws. ClickSafe is being pitched at business users who take regularly laptops into airports, hotels and coffee shops.
Kensington's ClickSafe laptop security system costs $50; a dual-lock version is available for $70.
A demonstration of the device can be seen in a video from the company, embedded below.
Read more…
ClickSafe Keyed Laptop Lock