They say a picture is worth a thousand words. That little saying takes on a whole new meaning with the iPad version of TypeDrawing from developer Hansol Huh.
As the name suggests, TypeDrawing for iPad lets you draw on your tablet using words instead of lines just like the iPhone version of TypeDrawing let you doodle on that iOS device.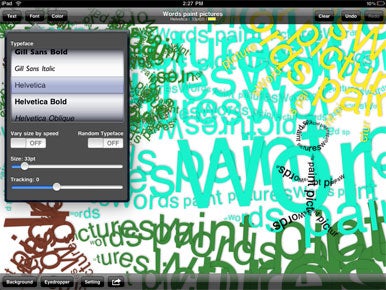 To get started, you type in the text you want to use. It could be a single letter or an entire paragraph. You can choose to have each stroke begin with the first letter you entered or have each stroke pick up where the last one left off. TypeDrawing lets you choose from more than 40 fonts, ranging from Helvetica to more fancy scripts. You can set the font size as well as its spacing or just have the font size vary depending on how fast or slow you draw. The app also gives you the option to use random fonts as you draw.
TypeDrawing offers a full color wheel-style color picker that enables you to choose virtually any color to draw in, with sliders for adjusting opacity and darkness. The app also adds a nice-looking drop shadow to the letters as you paint, though you can turn this effect off if you prefer.
You can draw over a plain white or black background or even over a photo from the iPad's photo library. TypeDrawing has a nice eyedropper tool for selecting colors from your drawing that you activate with a tap and hold anywhere on the screen. You can zoom in and out as you draw to work on finer details using the standard pinch gestures. If you make a mistake, don't worry—TypeDrawing supports up to ten undos.
Once you're finished drawing, you can either save the image to your photo library or e-mail it to a friend. The most recent update adds support for high-resolution PNG and PDF export.
TypeDrawing is a really fun app to use and can produce some nice looking images. The interface is very clean and user friendly. If you're a big fan of typography, you'll probably enjoy TypeDrawing.
[Tim Mercer is a technology enthusiast, graphic designer, and blogger, whose blog, digital-artist-toolbox.com, offers free resources to the digital artist and graphic designer.]
Updated at 6:08 a.m. PT to note some of the features in the 1.3.1 release.