Developing for the App Store can still be a tricky business, despite Apple having lightened up since releasing those much-needed guideline changes in September. Still, using private APIs in one's app—whether intentionally or not—is strictly forbidden by Apple's review process. Chimp Studios wants to help developers cut down on their nail biting habits with a new Mac app.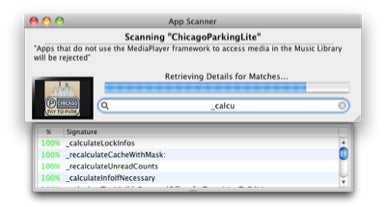 App Scanner 1.0 is basically a pre-flight utility to prepare for submitting an app to the App Store. You can drag-and-drop your iOS app onto the program and App Scanner will dig through it, checking for the use of any private APIs (the 1.0 release can search over 24,000 method signatures). It should also help reduce "false positives"—when a developer uses a custom method name in their code that just happens to match the name of one of Apple's private APIs.
While App Scanner is going through its motions, you can brush up on Apple's review guidelines right form inside the app. A feedback community, sample iOS app for testing, and the promise of frequent updates to keep pace with Apple's iOS releases wrap up what sounds like a useful tool for developers.
App Scanner isn't the first tool of its kind, of course. Erica Sadun, notable developer, hacker, and writer, released a similar utility in beta back in August, though the beta has since expired and requires an update to work again. It is also surprising that Apple apparently hasn't built these features into Xcode itself, though it obviously could in a future update.
The potential for obsolesce is probably part of the reason why Chimp Studios priced App Scanner like an iOS app, at just $3. App Scanner is available now from Chimp Studios's site.