In an announcement that should thrill fans of vintage synths and audio effects, Moog Music has announced the upcoming Filtatron app, a real-time audio effects suite and studio tool for iPhone and iPod Touch.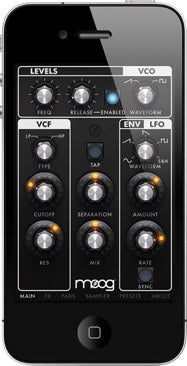 The Filtatron lets you alter samples, live audio, or sounds from a built-in oscillator with a modeled Moog filter, complete with envelope follower, Low Frequency Oscillator (LFO), and effects.
The heart of Filtatron is a four-pole resonant Moog Ladder Filter—modeled after the same filter that gives Moog instruments their classic warm, thick character. The Ladder Filter includes Lowpass and Highpass modes with adjustable cutoff and resonance parameters you can use to shape the sounds that emit from Filtatron's on-board oscillator, sampler, and line/mic input.
A high-resolution, alias-free DSP oscillator with sawtooth and square waveforms and adjustable frequency from 0.3 Hz to 2 kHz provides classic analog-sounding tones for you to shape, and a five-waveform LFO lets you add motion to your sounds. An adjustable Envelope Follower uses the volume of a sound to automatically sweep the Ladder Filter, and amp and delay effects modules provide extra warmth and smoothness to your tone.
For live sound, Filtatron features multi-touch pads that act as a performance interface, providing hands-on control for all major sound-sculpting parameters.
Filtatron comes pre-loaded with a number of edgy presets that will help kick-start your sonic explorations. It also comes with an array of loopable samples you can use with the Filtatron's sampler to act as a foundation for your own sounds.
Filtatron is priced at $5 and will be available October 18 for iPhone and iPod Touch.