Fidelity Media has released an update to its Mac-based DJ software and radio automation system, MegaSeg, adding a trackpad beat-syncing and scrubbing ability, new album art display feature, and numerous minor improvements.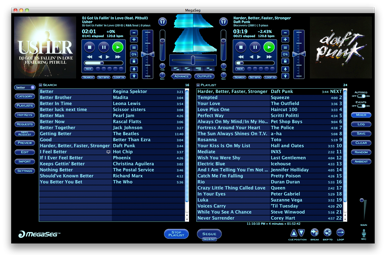 MegaSeg is a professional DJ and broadcast automation system for audio and video mixing and music scheduling. The program, designed specifically for Mac OS X, enables seamless transitions between songs and videos, triggering of sound effects via hot keys, cueing tracks on a second output, and more.
New in MegaSeg 5.5 is a revamped Wave Viewer with trackpad beat syncing and scrubbing, allowing for easier visual beat mixing and cueing. The feature works with MacBook trackpads as well as the Magic Mouse and Magic Trackpad.
MegaSeg 5.5 also features redesigned decks and track info popups that integrate your album art along with the track information. The category browser has been updated as well, with robust new audio and video filter options to help find specific media types fast.
The update also adds powerful 3x gain controls to boost softer tracks, minimum title and album separation rules, and video icons in list views. The handling of streaming online broadcasts, automatic volume adjustments, the playlist scheduler, and drag-and-drop track reordering, has also been refined.
MegaSeg 5.5, which runs on OS X 10.3.9 or later, costs $249 for the stand-alone version and $79 for an upgrade from older versions.