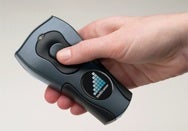 IntelliScanner on Tuesday gave small business owners a new way to jazz up the already glamorous tasks of barcode scanning and inventory management.
The IntelliScanner SOHO 150 enters the midrange of IntelliScanner's office line with features like wireless scanning. It can run on AAA batteries and scan up to 4,000 barcodes before it needs to be plugged in via USB. At that point, it can offload its memory into a variety of first- and third-party software, including IntelliScanner's own Inventory 2.0 or Media 3.0 apps, as well as FileMaker Pro, Xsilva LightSpeed, and Microsoft Office.
A two-port switching USB cable allows the IntelliScanner SOHO 150 to connect to multiple sources. The scanner also supports driverless operation as well as a Keyboard Emulation driver so its output can be customized for advanced applications.
The IntelliScanner SOHO 150 is available now for $299, which includes the USB cable, pre-printed asset tags, and the aforementioned IntelliScanner software. It requires a Mac running OS X 10.4, 10.5, or 10.6, or a PC running Windows XP, Vista, or 7.