If you're an iPad- and wireless-keyboard-wielding road warrior, San Francisco-based WaterField Designs has announced a new travel case with your name on it. The iPad Wallet is a compact, versatile mobile office solution for carrying and protecting your iPad and wireless keyboard while on the go.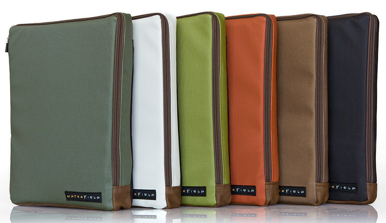 The iPad Wallet's foam padding offers impact protection, while two scratch-free, lightly padded internal pockets keep your iPad and keyboard separate and safe.
The keyboard pocket is designed so that the Apple Wireless Keyboard's bulky battery chamber hugs the edge, leaving more room in the rest of the case for the iPad. The iPad Wallet's interior is roomy enough to store an iPad that's already in its own case, but if your iPad is caseless, there's a special pocket that will keep it securely in place. There's also an extra pocket for flat accessories like charger cables or iPods.
The iPad Wallet, which is available for pre-order now and will ship by October 31, is priced at $79 and is available in six colors, each with distressed brown leather sides. WaterField also offers three shoulder strap options for the iPad Wallet: just the D-rings with no straps ($5), a Simple Strap Mini ($9), and the Suspension Strap Mini ($19).