Most of us can't afford the luxury of a personal assistant, but Siri has put the mobile equivalent of one within easy reach for iPhone and iPod touch users. The free Siri Assistant offers a way to funnel information from several places onto one iOS screen.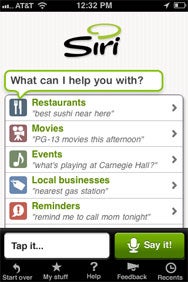 The app works with more than 30 partners, including companies and services such as OpenTable or Rotten Tomatoes, to get an idea of what's going on and where. Siri uses information from multiple sources to form an answer. For instance, a common task for the app could be "I want a romantic dinner location nearby." Siri would then find my current location and restaurants that have reviews using the word romantic to give you a list of options.
Siri Assistant may have a tremendous amount of power under the hood, but the app itself sports a clean look that's easy to navigate. When you launch the app, you'll land on a home screen that lists several categories where assistance is available—everything from taxis to weather forecasts. Buttons at the bottom of the screen suggest the app can do even more: Tap It lets you type out commands while Say It relies on the sound of your voice. (Siri Assistant only supports English at this time.)
Essentially, Siri Assistant can do anything you can think to ask of it. Siri checks flight statuses and movie times. Events such as concerts, sports, or theater are available by location. I spent a good deal of time trying to figure out what Siri can't do, and found it can even answer the most obscure of questions. (For instance, the app provided me with a list of the good spots to go apple-picking in New Jersey were as well as information on where babies come from). Siri Assistant isn't a search engine, but it will quickly Google terms if that's what you want. Many searches produced the results I was looking for. The one time I stumped Siri Assistant by asking for a recipe, the app apologized for not having the answer while promptly directing me to the Epicurious Website so that I could find what I wanted.
In addition to simply offering up information, Siri Assistant can accomplish more active tasks as well. It can e-mail directions, request taxis, and place dinner reservations with just a few taps. You can also update Twitter via Siri, though I wouldn't recommending let this app replace any Twitter client you happen to use—feeds aren't available within Siri Assistant.
The app has a few rough patches—I had trouble using the voice command to track down movie showtimes—but it's worth noting that it's easy to get in touch with the team behind the app. A Feedback button on the bottom of the screen lets you make suggestions and report bugs. Siri's Website also recognizes the room for improvement, and mentions the company's hopes for the future of Siri Assistant's capabilities. Before long, it seems, this app will be able to do everything short of picking up dry cleaning and dropping kids off at school. Until then, it's still a great addition to your iOS device.
[Stephanie Kent is an editorial intern at Macworld.]