Much has changed since Macworld last took a look at Skype the for iPhone. When we last reviewed the VoIP app from Skype Software, the free offering was limited to the iPhone and iPod touch, required Wi-Fi, and couldn't run in the background. The iOS Skype experience of today is much, much better.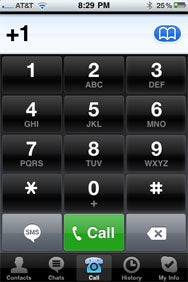 Indeed, these days, Skype can run on the iPad (though it's not optimized for that device's larger screen). You can make calls over AT&T's 3G network, assuming your data plan can handle the usage. And thanks to iOS 4 and its vastly improved support for multitasking, you can receive calls and instant messages in Skype even when the app isn't running.
Thus, what was once good is now simply great.
If the folks you want to call also use Skype, you're in like Flynn. Tap their username in your Skype address book, and the app places the call almost instantly. The near CD-level audio quality puts a regular cell phone call to shame. Should you want to avail yourself of Skype's instant messaging, you can do that too: the app offers an attractive, familiar interface for for text-based chat with your Skype contacts.
You can receive calls from your Skype buddies, too. And again, as I mentioned at the outset, you can receive calls when Skype isn't even active, since iOS 4 lets the app run in the background. That also means you can exit the app—say, to check an e-mail for details—while on a Skype call, without disconnecting.
Of course, you can use the service for plenty more than Skype-to-Skype calls. The company offers extremely competitive deals, as low as $3 a month for unlimited calls to the United States and Canada, or $14/month for unlimited calling worldwide. You can purchase the necessary Skype Credit within the app (through an embedded Web browser), or from your computer, and instantly start making Skype calls to real live telephone numbers.
Dialing those phone numbers is simple; you pull up a keypad that looks awfully familiar to anyone who's ever placed a call on the iPhone. And since the Skype app lets you dial anyone in your address book, you can really use the app as a solid replacement for placing "real" calls.
The one thing that the app disappointingly doesn't offer is video chat. Now that the iPhone 4 and the latest iPod touch support FaceTime calls over Wi-Fi, it's stunning that Skype—renowned as it is for its video chatting on the desktop—still completely lacks any video calling on the iPhone. With each Skype app upgrade, I hope to see the introduction of (even Wi-Fi-only) video calling, but thus far, no dice.
But in truth, I come to praise Skype, not to bury it. Despite the one missing killer feature, the telephony app is aging well. Under iOS 4, the app can genuinely help heavy talkers save minutes by placing very cheap calls via the Internet.
[ Lex Friedman is a frequent contributor to Macworld.]