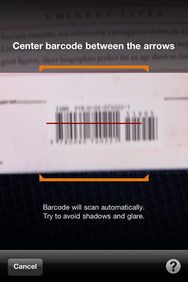 Amazon's Mobile app gives you a few ways to look up products: you can search by entering keywords, you can browse through recommendations, or you can even take a picture of an item and Amazon will try to figure out what it is. Now, with the recent 1.2.8 update to Amazon Mobile, you can search by scanning barcodes as well.
Barcode scanning via a camera is nothing new—Mac apps like Delicious Library have sported the feature for years, and there are plenty of iPhone apps that allow you to do the same, such as Red Laser. But integration into Amazon's own app is a nice additional feature for the already handy program, and in my informal testing, it works pretty well.
Amazon 1.2.8 is a free download that works with any iOS device running iOS 2.2.1 or later; for the new barcode scanning feature, you'll need an iPhone 3GS or iPhone 4 running iOS 4 or later.