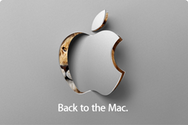 If you thought that Apple's only cares have been about its shiny iOS devices, well, Cupertino's prepared to prove you wrong. On Wednesday, the company issued invites to the press for an event on Apple campus next week on Wednesday, October 20.
Dubbed "Back to the Mac," the invite's image shows a slightly rotated Apple logo with a lion peeking through it. In the invite, Apple says "come see what's new for the Mac…" and adds that it will present a preview of the next major version of Mac OS X—which I think we can now safely presume is Mac OS X 10.7 Lion. The company will also be providing a café breakfast and a coffee bar—isn't that nice of them?
The event kicks off at 10 a.m. Pacific next Wednesday, and Macworld will, as always, be providing live, blow-by-blow coverage of Apple's latest announcements.