Display connectors have gone through plenty of shifts in the last several years, so it's not always easy to make your display play well with your Mac. If you've got an older Mac but a newer display, it's often a matter of trying to fit a square peg in a slightly different square hole. That's why Kanex is releasing a series of three adapters to help you more easily mate your monitors and Macs.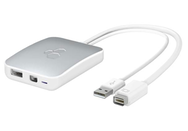 The $129 Kanex C247m (left) is for those Mac users who are looking to connect a slightly older MacBook or Mac mini to one of Apple's shiny newer 24-inch or 27-inch Apple LED Cinema Displays. Plug the display's mini DisplayPort connector into the C247m and then connect the mini-DVI plug to your Mac and you're all set. If you want to send audio as well, you can do so over the integrated USB plug, which also provides power and allows you to use the built-in iSight and USB features of the display. The C247m supports up to 1920 by 1200 pixels running at 60Hz.
If you've got a full-sized DVI connector, such as on a 2006-2008 MacBook Pro, a 2005-mid 2007 Mac mini, or most PCs, then you'll want to look into the $129 Kanex C247d, which offers a lot of the same features as the C247m but with a standard DVI connector instead of the miniaturized flavor. It also supports USB audio, power, and lets you use the display's iSight, and can handle resolutions up to 1920 by 1200 at 60Hz.
Finally, Mac users who want to connect their newer Mac with mini DisplayPort to a display that requires Dual-Link DVI, such as the older 30-inch Apple Cinema Display, will want to pick up the $99 Kanex C30. It supports up to 2560 by 1600 resolution over the Dual-Link connection (or 1920 by 1080 over standard Single-Link DVI) and is USB powered.
The C247m and C247d are both due out next month, while the C30 is available now. With these three adapters, Mac users should now have the option of connecting to pretty much any Apple display.