Posterous, a drop-dead simple blogging alternative to sites like Tumblr, has followed up its previous, focused iPhone app effort with an official, full-featured client.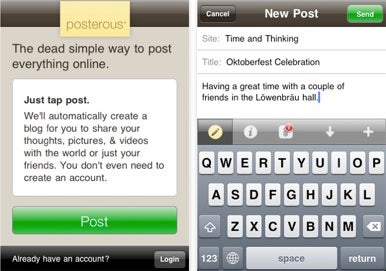 Dubbed simply Posterous, the service's new app lets you post text, photos, and videos from your iPhone or iPod touch. You can add metadata like tags and location information, and take advantage of Posterous's ability to syndicate your posts to a myriad of social media services, including Twitter, Facebook, Picasa, MySpace, and over 20 others.
This new app is a welcome improvement over PicPosterous, the service's previous iPhone app, which limited users to posting photos and videos—no traditional text posts were supported.
Posterous for iPhone supports the typical range of features, including multitasking and optimizing media for uploading and sharing across the Web. Interestingly, Posterous's Website and iPhone app allow users to start publishing and sharing media without requiring so much as an e-mail address or a name. You can optionally register for a full (and free) account to gain features like managing multiple sites, creating group sites with multiple collaborators, posting via e-mail, and editing existing posts.
Posterous for iPhone is available for free now in the App Store. It requires an iPhone or iPod touch running iOS 4.0 or later.
[via MacStories]